It's 1948. Amy Coney Barrett is 18-years-old and venturing into post-high school education. For women, options are limited. She wants to be a lawyer, something her conservative father scoffs at. She belongs at home.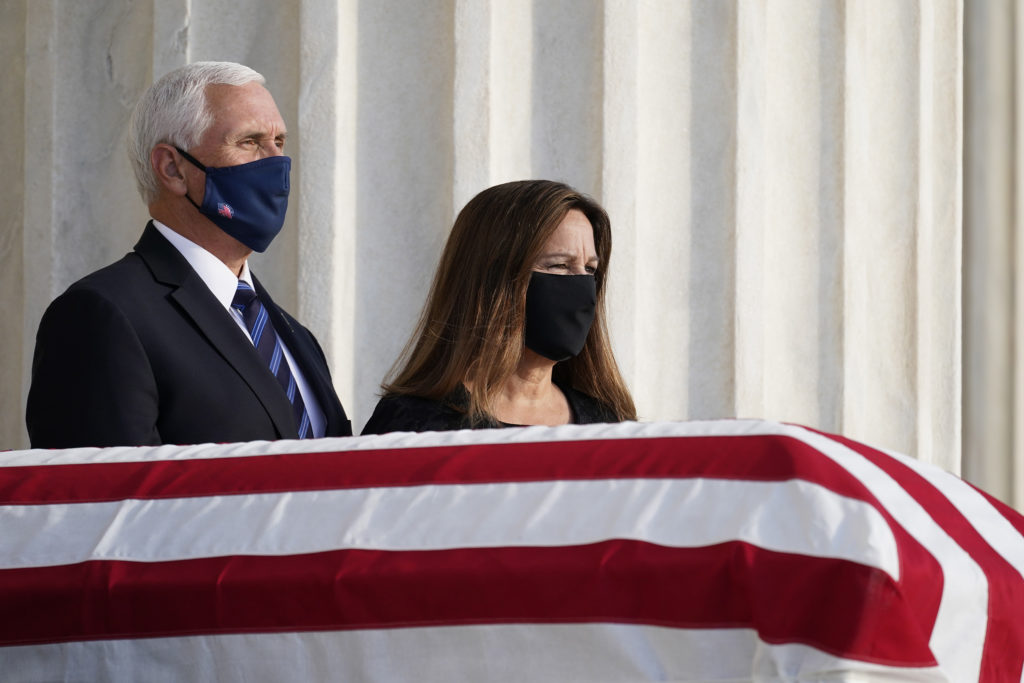 We're in an alternate timeline where Ruth Bader Ginsburg did not enroll at Harvard Law School as one of only nine women in her class. She did not graduate from Columbia, did not begin work as a law clerk and did not co-found the Women's Rights Project at the ACLU.
Women can't work overtime. Women have to take credit cards out in their husband's name. Women can't fly military cargo planes. Women can't work in mines. In short, RBG did not change the way the world sees gender. There are still 170 laws that discriminate on the basis of sex.
So, Barrett won't open a bank account (she can't without a husband), she won't apply for a mortgage (she can't without a husband) and, most importantly, she won't go to law school. There's only one woman serving on a federal appellate court. It's not a reasonable career for a woman, her father says. She ends up teaching instead.
Today, Barrett is who she is because of RBG. Ginsburg helped blaze the trail for female lawyers, judges and scholars. After walking through every door Ginsburg opened for her, Barrett is poised to close them for women to follow.
We're facing a Supreme Court set to undo years of work by feminist activists. As a queer woman, decisions made by these justices will be actively harmful to me. Conservatives will almost certainly target Roe vs. Wade in an effort to undermine female autonomy, even though male autonomy has never been questioned in this country.
There have never been more than two women on the Supreme Court at the same time. Women are not adequately represented in business, education or politics.
For every woman in Congress, there are three men; only eight percent of elected Republicans are female.
One-third of America's national judges are women. Only three of 15 judges on the International Court of Justice are women.
The idea that we have established gender equality is a fallacy. Most people in poverty globally are women and children. On average in America, women earn 75 cents to a man's dollar. More than a third of women have experienced sexual harassment in the workplace. Only seven percent of Fortune 500 CEOs are women.
The situation is even more dire for women of color. According to the National Women's Law Center, Black women earn 63 cents to a white man's dollar. Hispanic women earn 55 cents.
Laws discriminating based on sex still exist. Women in Utah cannot get a hysterectomy before they are 35 without their husband's permission. In Massachusetts, birth control can't be advertised through mail. In North Carolina, women cannot withdraw consent. Women cannot wear sleeveless tops or dresses in Congress. Rapists have parental rights in seven states.
It's not enough to just nominate or elect women. Trump has selected Barrett as his nominee for a reason. She's able to do more harm to women than a male nominee could. It's no coincidence that he replaced RBG, an activist who worked for gender equality her entire life, with a conservative woman guaranteed to overturn Roe v. Wade. It's a purposeful attack against Ginsburg's legacy.
In the first presidential debate on Sept. 29, Trump defended his rushing of the Court nomination by declaring Democrats would do the same thing.
But Democrats have never claimed otherwise. In 2016, Obama indeed nominated a Justice during an election year. It's the hypocrisy of Senate Republicans that has outraged so many.
Sen. Ted Cruz said, "It has been 80 years since a Supreme Court vacancy was nominated and confirmed in an election year. There is a long tradition that you don't do this in an election year."
Sen. Lindsey Graham said, "If an opening comes in the last year of President Trump's term, and the primary process has started, we'll wait to the next election."
Sen. Marco Rubio said, "I don't think we should be moving on a nominee in the last year of this president's term. I would say that if it was a Republican president."
In her final message to the public, just days before she died, Ginsburg dictated this statement to her granddaughter: "My most fervent wish is that I will not be replaced until a new president is installed."
Trump offered Barrett her spot less than 72 hours after Ginsburg's death.
Women had a responsibility four years ago to stop this from happening. We didn't show up. Now we will watch the most important feminist lawyer in American history be replaced by a women belonging to a religious group that subjugates women.
We have no way of knowing what's coming in the months and years ahead. Should Trump win re-election, it's no exaggeration to say our democracy is in jeopardy. Human rights have been violated already, but with a stacked Supreme Court, a Congress unwilling to hold him accountable and an American people either too apathetic or too exhausted to care, there's no telling what he could do.