A supergroup is a band whose members are already successful artists as a solo act or another band. The term is mostly used in rock and pop groups, and has been around since the 1960's. The band Cream is credited to being the first supergroup.
The Dead Weather is a four-part supergroup consisting of Dean Fertita, Jack White, Alison Mosshart and Jack Lawrence. The four got together in Nashville in 2009.
White is the most widely known member of the group because of his time with The White Stripes. He also has a solo project and was with Lawrence in a band called The Raconteurs. Mosshart is known for her time with The Kills and Fertita works with Queens of the Stone Age.
This supergroup has released three albums since their formation. Their latest, "Dodge and Burn," came out in September 2015.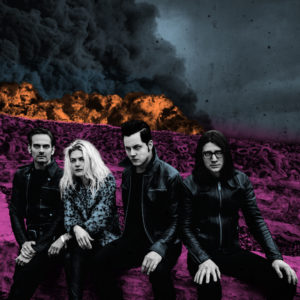 The Dead Weather seems to be on the back burner in the band members' lives. According to Consequence of Sound, the group "Spent their rare and sporadic free moments over the past year recording together in Nashville." The members are heavily involved in other projects, so The Dead Weather won't tour in support of the new album.
Anyone who has ever listened to Jack White's music knows that it has a very distinct sound. The music he's been involved with is described as a mix of blues rock, garage rock and psychedelic rock.
Pitchfork described White's solo work as intimate and extravagant, but when he teams up with The Dead Weather, he unleashes pent-up aggression.
"Dodge and Burn" is a change from the band's last work "Horehound," and I agree with Pitchfork that this album is more aggressive.
The driving guitars, heavy bass, seedy voices and all around good chemistry makes this album a great listen. "Horehound" featured a lot of White's vocals, but "Dodge and Burn" allows Mosshart to show off her chops a little more. The two even do a couple duets, meshing their voice together seamlessly.
While listening to this album, I got a surge of energy. Hearing all of the elements come together as sort of a rock 'n roll soup is a marvelous experience.
The first couple of tracks on the album are great, but I really started enjoying myself when I got to the third song on the album, " Let Me Through." The track is heavy with a lot of bass and has more of a low-energy feel than the rest of the album. It slows down when Mosshart sexily chants, "I'm a bad man/let me through." The tracks picks up at the very end, letting loose with louder drums, guitar and vocals.
Following "Let Me Through" is "Three Dollar Hat," a track that takes a more eerie route. "I'm that bad man named Jackie Lee/shooting everybody down with a .33," White sings. The keyboard is prevalent at the beginning, making a creepy sound that will put listeners on edge.
Overall, this is an album that is worth listening to. If you want something that sounds unique The Dead Weather is something for you. Jack White always manages to infuse his music with different elements that add up to be an interesting whole. Even though the members treat it as a side project, they put out quality music.
This is a five star album because, well, it's super. Each member brings pieces of their experience from their other groups and makes something new and fun for listeners to enjoy. Because they're a supergroup, you should check out the other bands that members are from: The White Stripes, The Kills, Queens of the Stoneage and The Raconteurs.