Running without Rahe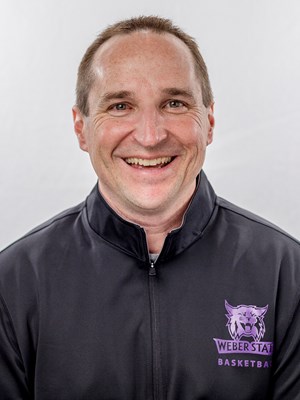 After 16 years as the head coach for Weber State University's men's basketball team, Randy Rahe's retirement came as a shock to even those inside the program. Rahe led the Wildcats to over 300 wins and three Big Sky titles during his tenure, an accomplishment he made with his former assistant Eric Duft, now head coach of the program.
"He had told me on Friday afternoon," Duft said. "I met with our athletic director Tim Crompton on Saturday and then had a short meeting with our administrators on Monday morning and was offered the job immediately."
Before coming to the Wildcats, Duft served as a head and assistant coach for junior and community college programs in Kansas. A father of four, Duft found Ogden as a great city to raise a family in and Weber State a school where he could further his career.
"The values of Weber State aligned with who I wanted to be as a coach." Duft said. "I did have some opportunities to leave, but ultimately, my goal was to stay here and help coach Rahe as long as he wanted to do it, and when he didn't want to do it, I wanted to be the head coach of Weber State."
The coaching transition came as a surprise to even Weber State players like forward Dillon Jones, who'd only heard about Rahe's departure 10 minutes before the news was announced.
After falling to Montana State University during the Big Sky Conference tournament, Rahe knew Jones was going to receive offers from other schools during the offseason. After talking with Rahe, Jones decided he would stay and accomplish his basketball goals at Weber State.
"Obviously, he was a big part of that," Jones said. "Those were the conversations we had at the end of the year. It was nothing about him retiring. It was about trying to win the championship next year."
Despite having only one losing season since their 2016 Big Sky Conference Championship run, the Wildcats haven't won a title since. Like how Rahe won a conference title during his first year as head coach, Duft's goal is to take Weber State to the NCAA March Madness Tournament this season.
"We'd like to be a championship team," Duft said. "I think those are pretty much consistent goals for Weber State every year."
Players like Jones will return for next season, but there are many who recently signed with the team. Duft said he's signing players to build off last year's team and fill in holes.
"I think our roster last year, we had a lot of the same type of players so we're trying to diversify our roster a little bit." Duft said. "We had nights where we could struggle shooting the ball, so we've tried to address that. I think we've got some really good shooters coming."
Duft said that new guards Keith Dinwiddie, Steve Verplanken and JJ Louden are all high-level shooters. He's also expecting returning players like forward Dyson Koehler, guard Zahir Porter and Jones to make an impact from behind the arc.
"My coaches, being as smart as they are, they've seen the issues and they are able to address them," Jones said. "As a team, we're going to be better because of it."
Although winning a championship is the primary focus for the Wildcats this season, players are also looking for opportunities off the court, specifically deals that allow college athletes to earn money from their name image and likeness, also known as NIL agreements.
"The NIL is a unique situation," Duft said. "I think right now, schools at our level are kind of in a 'wait and see' pattern to try to figure out the landscape."
While the new agreement has impacted many NCAA athletes, Jones hasn't been contacted about any NIL deals yet.
"Being here in Utah, no one actually has reached out to me too much about NIL," Jones said. "I don't know if too many people have knowledge about it."
Jones said that although many consider NIL's controversial, they provide opportunities for student athletes in need.
"Not every kid is the same," Jones said. "Some kids drive a Mercedes Benz. Some kids ride the bus. You just don't know everybody's situation."
Although new to the NCAA, Duft finds NIL opportunities promising for players.
"We want to let those guys have any benefit that they can get financially for the work that they've done," Duft said. "[That's] something that we're going to support and encourage."
Although the schedule hasn't been officially released for the next Big Sky men's basketball season, Duft said many of Weber State's away games will be anticipated matchups.
"Almost every night, we play on the road," Duft said. "We're playing in a red out, a white out, a green out, a blackout or a retro jersey night among the Big Sky teams. That's the challenge that we look forward to is going into those environments when they're trying to celebrate something or getting their biggest crowd out. Going in there and beating those guys is always a good feeling."
With the new season starting this fall, Jones said Duft's coaching style is different from Rahe's.
"Coach Rahe will tell you his style is more mentality based," Jones said. "Duft's definitely more of the X's and O's, putting everybody in perfect situations and things like that."
Although they coached together for 16 seasons, Duft doesn't plan on running everything like Rahe.
"I don't want to be a copycat of Randy Rahe, just like he didn't want to be a copycat of Stew Morrill," Duft said. "Players relate to authentic. No matter what the personality is, they just want you to be who you are."
Along with winning championships, Duft's goal during his tenure is to make sure his players are able to have successful careers after graduating whether in or out of basketball.
"We want these guys to leave here and be good pros and the ones who may not play professionally or when they're done, we want to make sure that we're turning out good people and good husbands and fathers," Duft said. "We try to develop these guys in every area of their life and when they leave here they feel good about their experience."
Leave a Comment