Family and friends gathered to the sounds of powerful drum beats and the twirling bright colors as the 43rd annual Native American Student Association Powwow officially commenced on March 26 at Weber State.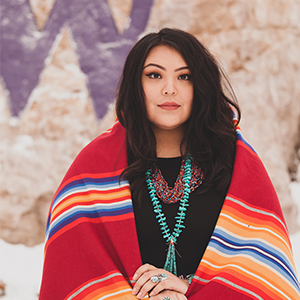 The COVID-19 outbreak had canceled and postponed many events at WSU, including the last two years of powwows. But as cases decrease and the community is able to open up bit by bit, this event found itself back and stronger than ever.
Amanda Jones, president of NASA, expressed her hopes of reconnecting to campus and highlighting Indigenous voices during this event.
"It's bringing the community, bringing the people together," Jones said. "I love the sense of the community we build when we have these events, and I think it strengthens the relationship we have with the university and the relationship that we have with the community."
Jones also spoke about the staff at Weber and their involvement with students.
"Tashina Barber has been one of our favorite advisers. She has helped us immensely with the planning process of the powwow," Jones said. "She's really good at talking with us and making sure we're part of the conversation when it comes to Weber State. She's a really good person to meet up here on campus."
Like many campus events, the powwow was open to both students and members of the community in and around Ogden. The hallways were filled with vendors selling homemade jewelry and artwork, often featuring a family craft or tradition that could be passed down through the generations.
"That's important for us, because we want to make sure that something that stays within their families and is passed on," Jones said. "And by purchasing this, it really helps them out."

Florence Littlefoot, one of the many vendors at the event, shared Jones' sentiments about being able to return to friends and family after the isolation of COVID-19.
Michael Haswood and local R&B artist Rhonda "Honey" Duvall, two vendors who participated in the event, found that the return of the event allowed them to sell their artwork and promote their work. Haswood was able to promote his work in preserving the Bears Ears monument, while Duvall promoted her own artistry that focuses on teaching children about their Native American heritage.
Kassie John, a participant at the event and contestant in the upcoming 2022 Miss Indian World pageant, found the event important in helping children reconnect with their culture. It builds a reciprocal relationship between them and their community.
Patricia John, WSU alumna and former head lady of the 42nd annual powwow described how the return from COVID-19 and the upgraded location of the Dee Events Center resulted in the strongest attendance the event has ever been. John was also a member of NASA during her time as a student at Weber. She expressed how proud she was to see the club grow and remain strong.
Students and visitors alike can expect even more events like this year-round at Weber State. During Native American Heritage Month in November, NASA hosts many events, all supporting and teaching Native American history and culture.
The local NAACP chapter also takes over during Black History Month in February with their own events and celebrations. Even the Asian Student Involvement Association hosted events and festivities during their Asian Awareness Week back in the beginning of February. All of these and more are a common sight at Weber and are part of its community and culture.