International fashion promotes local understanding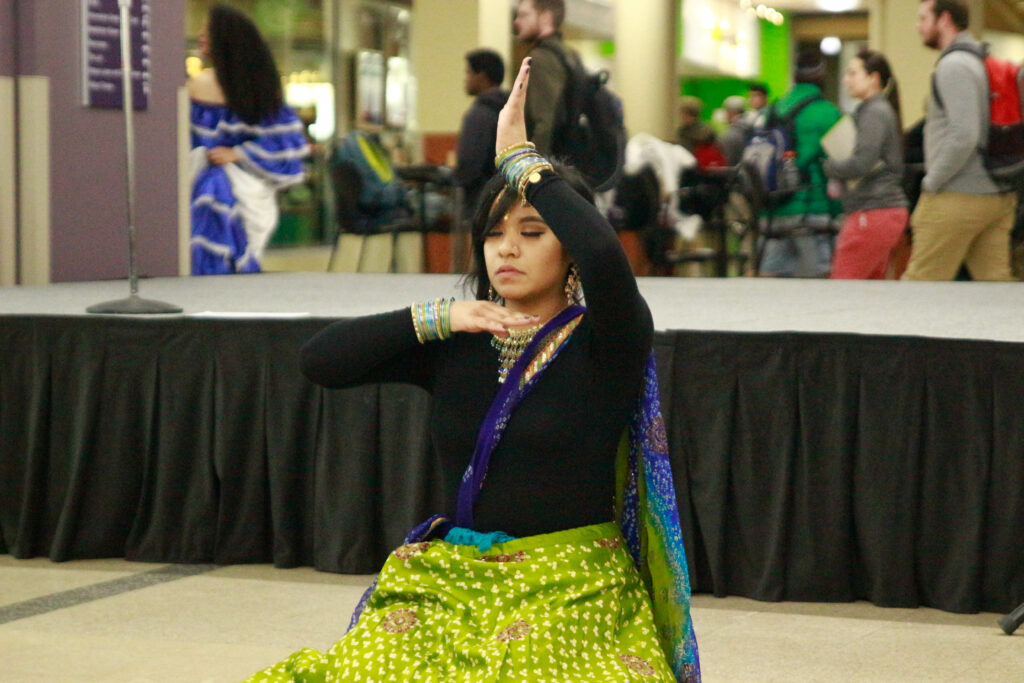 Dozens surrounded the stage setup in the Shepherd Union Atrium on Nov. 17 to watch the International Student Fashion show, a staple in Weber State University's festivities throughout International Education Week.
"(We're) empowering youth by sharing their cultures," said Maria Georgiou, former International Student Center Senator, at the start of the show. The International Student Center performed a fashion and dance show, showcasing traditional dance and dress from many countries.
The show began with a performance from a group of three girls, "The Garba Girls," who performed a traditional Indian dance. It was performed by Amina Khan, Ysabella Catchillar and Juhi Dubal.
All of the performers and models throughout the event were Weber State students, showing the diversity of the campus as these students represented and shared their heritage with the student body.
Performances included representations from India, Honduras, China, Nepal, Mexico, Netherlands, Scotland, Japan and Saudi Arabia.
"I think my favorite part was seeing all the different cultures and hearing her (Georgiou) read out where each person was from and describing their dress and what it means," Cindy Mendoza said.
The fashion show was not only meant to show the traditional dress of each country, but it also explained some of the deeper meanings behind the culture. Whether it was style, color or symbols on the garments, each country had its own unique message.
For example, the traditional Chinese garments for the emperor carried a dragon to symbolize power, strength and good luck. The Chinese empress had a phoenix on her robes that symbolized strength, duty and virtue.
The traditional dress from Honduras had a message amongst the use of dyes and stitching. The long dresses can be any color, but the one Gabriela Thompson Nolasco was wearing was blue and white, which represented the colors of the Honduras flag and also represented the ocean, purity and peace.
The theme for this year's International Education Week was "empowering youth through international education." Participants noted that understanding others' cultures on campus opens the doors for many opportunities here on campus and in study abroad.
According to the Office of the Spokesperson of the U.S. Department of State in a press release, International Education Week will hopefully encourage "Americans and international students alike to seek opportunities to study abroad, make connections with peers in other countries and, ultimately, to see themselves as actors in and shapers of both their local communities and a globalized future."
This year's International Fashion Show and Cultural Dance gave Weber State students the chance to be those "actors in their community."