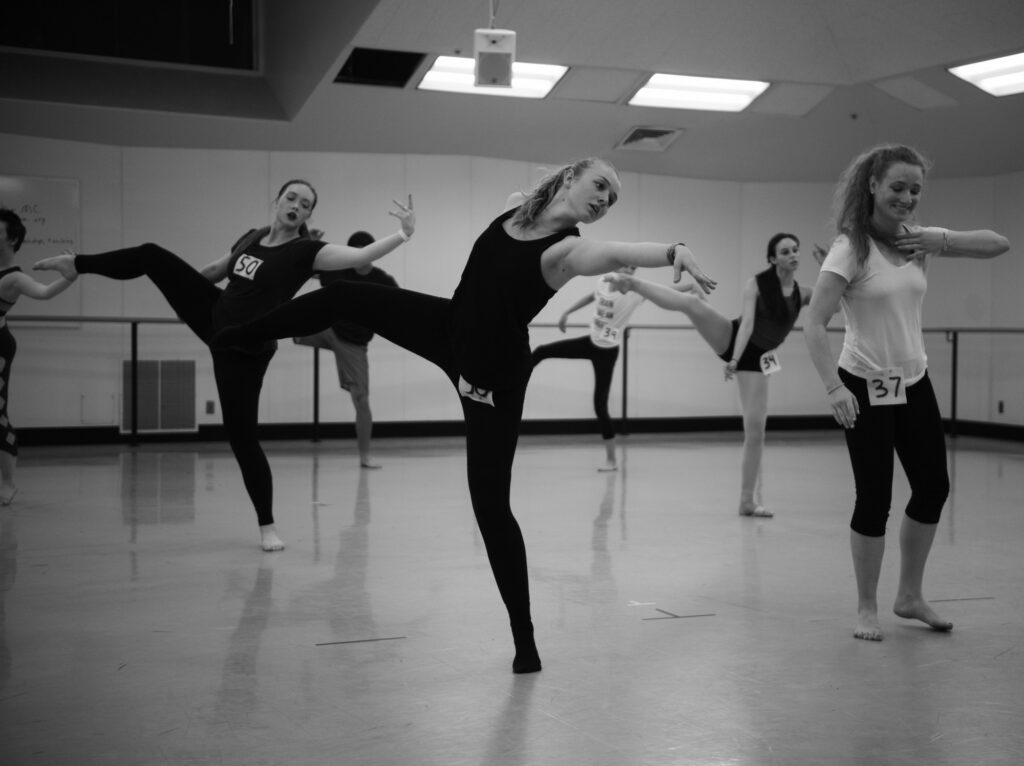 Students at Weber State University took the stage on Jan. 11 to audition for the Orchesis Dance Theatre's 2019 spring concert.
Professor Amanda Sowerby, who has taught at Weber State for 17 years, is not only a dance professor and the director of the Orchesis Dance Theatre production but also the associate dean of the Lindquist College of Arts and Humanities.
"The auditions went really well," Sowerby said. "We had a large group, which is always wonderful, and a really diverse group with a lot of new faces, which is great."
Students also had the opportunity to audition for the dance choreography II class, as well as for tuition waivers for the 2019-2020
academic year.
Buzz filled the room while students waited patiently for their turn to audition. Many participants who tried out have danced their entire lives, while others have recently taken interest in the sport.
Tana Aders, a Weber State student, has been dancing since she was 2 years old but took a 3-year hiatus and had not danced since
high school.
Aders auditioned in hopes of performing in the Orchesis Spring Concert, as well as receiving the tuition waiver offered through the dance program.
"I thought the audition went well, but I was definitely panicking inside," Aders said.
Sowerby said they try to give as many students as possible the opportunity to be involved with the work the dance program
puts on.
"We do not limit ourselves to a set number. We want to give as many students as we can the opportunity to participate," Sowerby said.
The spring concert for the Orchesis Dance Theatre is titled "Resonance" and is the main production for the dance program. The Spring Concert will be held April 4 to 6 at 7:30 p.m. in the Allred Theatre at the Val A. Browning Center.
Sowerby said the spring concert is made up of a variety of different works. Some of these include guest artists, seniors performing their thesis works and performances by the Moving Company, which is the dance program's outreach group.
Sowerby will also be presenting the second part of a year-long collaboration with music Professor Dr. Carey Campbell and the Department of Visual Art & Design sculpture students, who are under the direction of Professor Jason
Manley.
Tickets for the Orchesis Dance Theatre production can be purchased online with a discounted price for students at weberstatetickets.com.