Senior outside hitter Andrea Hale led the Wildcats to their fifth straight win on Saturday night in front of a 528 in her last game in Swenson Gym. Weber State University completed their third straight three game sweep to clinch the third seed in the Big Sky Championship Tournament.
The win gives the 'Cats seven sweeps on the season, the most by the program since 2007, when the team finished 16-13 overall. This year's team is poised at 18-9, seeking to win the championship for the first time since 1988, marking this year as the thirtieth anniversary of the historic win-out.
While Montana State had no players with double digit points, Weber stacked their stats with four such players. Hale once again led the team in points, scoring 15.5 points and added nine digs for a solid senior night smashing.
Sophomores Sam Schiess, Rylin Roberts and junior Megan Gneiting made up most of the supporting cast, contributing 25 points, five blocks and three aces as a group.
The Wildcats comfortably took set one in a 25–15 walloping, but found resistance from a stubborn 11-18 Bobcat team, determined to upstage Hale's performance with an upset.
Montana State roared back lat in the second set, but the Wildcats remained atop and took set two 25–22.
The third set was a similar affair, WSU jumped out to an early lead after two kills capping of a Wildcat 8–0 run. The 'Cats never once trailed in all three sets and took the final set 25–21.
Following the full-house finish, Hale took some time to reflect on her time at Weber, including her favorite memory on the court. Hale stated,
"I loved the Idaho game here at home. That was awesome! We came out and just destroyed them."
Hale continued on to expound upon her time spent with teammates, saying,
"(I love) Everything with them. Bus rides with them, in the locker room with them before games dancing, everything about it. I love these girls."
The Wildcats begin the Big Sky Conference tournament Thanksgiving day against the Northern Colorado Bears, and are riding a five game winning streak which has answered some concerns about inconsistency.
Hale, Kneiting and head coach Jeremiah Larsen consensually agreed that the team's lack of experience would not be an issue, and while they always enjoy the Swenson Gym crowds, they hold no fear of playing away from home.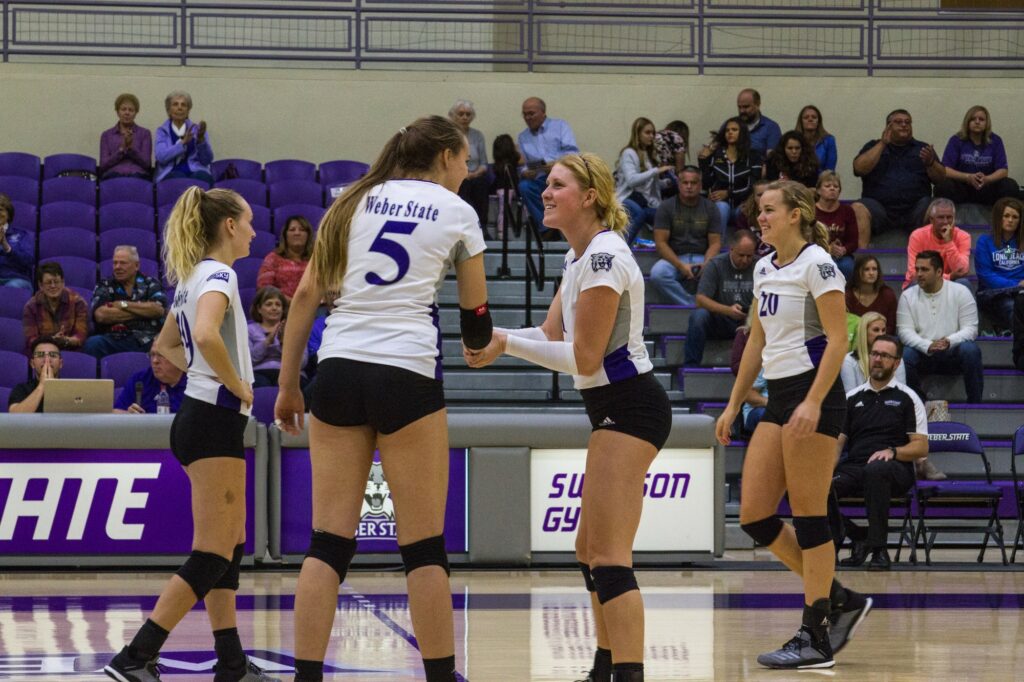 "I think, considering the state of Weber State volleyball for a long time, we're just happy that we get to keep on playing," Larsen said. "We're looking forward to every game we get to play, and we get to play more than 18 conference games. We get to go play UNC, we'll be excited about playing them, and how that happens, if we win, we move on to the next group."
On long term ambitions, Larsen went on to say,
"Our motivation the whole time is just leaving the program better than where we found it. We wanna win games, we wanna compete at a high level, we wanna leave a legacy for other Wildcat members to kinda build on."