Neuroscience mindfulness lectures remind us to stay in the moment
WSU's Neuroscience Lecture Series explores mindfulness this fall, its effects on anxiety, addiction and overall health, timed to coincide with a season of numerous challenges of mental and emotional wellbeing.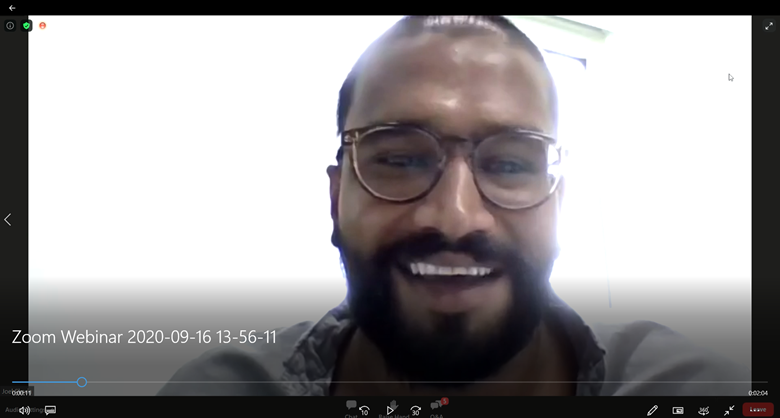 Dr. Joel Skaria, a psychology and neuroscience professor, kicked off the lecture series on Sept. 16 on Zoom to address the importance of remaining mindful, or mentally and emotionally present, in times of stress or uncertainty. He spoke of his own experiences and how mindfulness practices helped him get through the period shortly after he graduated college before he was an established professional.
"I was working through what I wanted to do," Skaria said. "Processing these big, existential questions in that time of uncertainty. My thoughts were kind of leading me to catastrophic thoughts about the future and ruminating on past mistakes. Maybe I should have gone to law school or done this or that…"
Anxious thinking is a slippery slope, caused by "mental time travel," or projecting ourselves into an unnerving vision of the future or into an embarrassing past memory. When we practice mindfulness, we have the ability to tell ourselves, "regardless of what actions I could have taken or what is going to exist in the future, I have the ability to focus my attention on things that I think are important now, and I want to foster my ability of paying attention to the present moment," Skaria said.
The lecture series and the neuroscience program are supported by the college of health professions, science and social and behavioral science, which all relate to the wide-ranging studies in neuroscience. The program brings many different perspectives and disciplines together at Weber State.
"It's one of the only true inter-college programs on campus," said Dr. Aminda O'Hare, director of the neuroscience program and the organizer of the lecture series. Dr. Jim Hutchins of the health professions department is another of the primary neuroscience faculty, approaching from a health and medicine perspective. Dr. Elizabeth Sandquist from the zoology department approaches with the interest of behavioral neuroscience. She uses zebra fish and stem cell models in order to better understand human neural activity by proxy.
"I'm what you would call a cognitive and effective neuroscientist," O'Hare said. "My own research looks at mindfulness, meditation, how it can change your relationship to anxiety and attention. I study how our emotions impact our ability to think."
Dr. O'Hare is in her second year at Weber, after previously teaching at the University of Massachusetts Dartmouth, and took over as director of the program in May. O'Hare will speak at her own lecture in the series on Oct. 6 at 3 p.m.
"If you talk to any of my students, they'll tell you that I start my classes with mindfulness practices," O'Hare said.
O'Hare says that almost every college student is, to some degree, effected by anxiety, which can be combatted through mindfulness. "None of us are going to have a stress-free life, but the goal is to help people build skills that can make us a bit more resilient, a bit more skillful at coping when life does get stressful," O'Hare said.
Also featured in the series is Dr. Judson Brewer, author of "The Craving Mind: From Cigarettes to Cupcakes to Smartphones, the Mechanisms Underlying How Mindfulness Helps Change Habits and Overcome Addiction," who gave a TED Talk in 2016 on breaking bad habits. Dr. Brewer's perspective seems to be an evolutionary one: certain behaviors that enabled our survival in the distant past are hard-wired in our brains and sometimes work against us in the lifestyle of modern humanity.
Through a recurring system of trigger, behavior and reward, Brewer said in the TED Talk, our behaviors are enforced regardless of whether they are healthy. He uses mindfulness practice to help people break out of addictive behavior, substance abuse and eating disorders. "Mindfulness is just about being really interested in getting close and personal with what's actually happening in our bodies and minds from moment to moment." Dr. Brewer will present on Oct. 23 at 2 p.m.
To close out the series, Jason Cowell, vice-chair of psychology at the University of Wisconsin-Green Bay, will present in November. Cowell is interested in neural processes of young children, especially related to empathy. "He studies morality and how morality develops in children, using neuroscience as a tool to look at how their perception of morality changes over time," O'Hare said of Cowell.
His lecture will be via Zoom on Nov. 19 at 2 p.m.
With all of these diverse and seemingly unrelated topics covered with neuroscience, it may be hard for someone on the outside to see who the neuroscience program is made for. "I think it's a great compliment to any field where understanding humans is really valuable," O'Hare said. "It gives a really good backbone to any kind of human professions, be it medicine, social services, education. It is understanding the human condition at the level of mechanics, the actual hardware and software that we have going on."
All students who are interested are welcome to attend the lecture series by registering on the WSU website.