Textbook prices weigh down students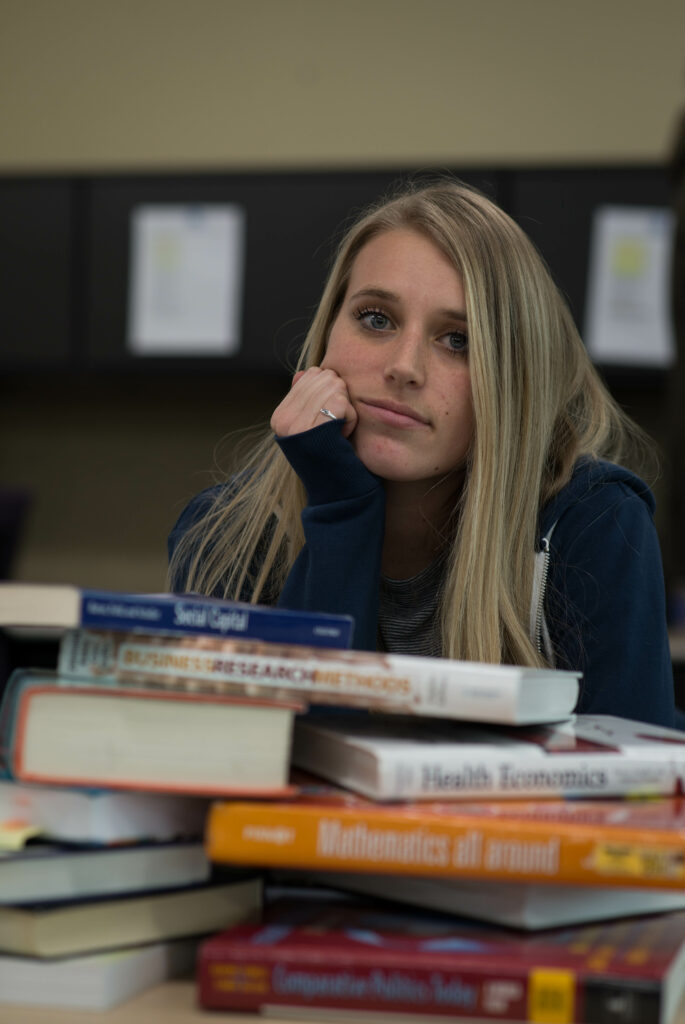 In addition to juggling a full time job and class schedule at Weber State University, Jessica Septon has another burden causing her stress in the school year: textbooks.
During the first week of the semester, her health science class was already four chapters into their textbook. This lead Septon to race down to the bookstore in a panic and snatch the only book left for her class.
At this point, she was the second of 30 students in the class to actually have their textbook. And yet, the bookstore was already out of stock.
"One textbook in my class was $150 dollars, and there was no option for used books at the Wildcat Bookstore," Septon said. "I understand that we have a necessity for books, but the university is asking students to pay a lot."
With midterms approaching, many students at WSU are still plagued by the debt of textbook prices from the beginning of the semester.
"We have had several students come in and cry," said bookstore employee Storm Powell. "It is clearly a stressful matter for students."
Wildcat Bookstore manager Ryan Stewart addresses these kinds of issues in his daily work life. He works with faculty and sources inventory to develop programs such as Day One access, eBooks and deals with rentals and used books.
Stewart believes there to be a number of factors that play into textbook prices being more expensive on campus than with a second party seller such as Amazon or Chegg.
"When we talk about goods and services, in the same way that a customer at the store has options for shopping in different places, the Wildcat store is essentially a customer trying to find affordable options at the lowest price," Stewart said.
According to Stewart, the only source the store can purchase textbooks from is the publisher. Additionally, the Wildcat Store does not have a lot of control over the books students use throughout the semester. However, professors do.
All of the textbooks are generally being marketed to the instructor of the class. When the instructor chooses the material, the store is able to acquire this textbook from the publisher at a set price on a national level.
"From what I know, most professors at Weber choose very expensive textbooks," Powell said. "I feel like professors don't really look into the actual prices of books. Some of them just come in and they want this specific textbook, but they can be incredibly expensive for students."
In addition, the Wildcat Bookstore often has to add markup values to textbooks in order to sustain their services.
"Generally speaking, every college bookstore will add a markup," Stewart said. "We are a business who are charged with providing affordable course materials to our students, but at the same time, we are running a program that needs to keep the lights on, employ students, ship products and essentially all other operating expenses."
Although the process of acquiring textbooks at the best price can be difficult for students, the book store is determined to create affordable options. Stewart regularly attends conferences with other professionals in his field to coordinate new and affordable opportunities for students.
"I know bookstores get a bad rep for textbook prices, but I can promise that our number one goal is strategizing how we can reduce these costs for students," Stewart said."
Some students have different ideas and recommendations for ways the WSU community can work together to accomplish these affordable textbook opportunities.
"The bookstore could at least offer a PDF and be upfront and honest about these things when books are unavailable," Septon said. "Even if professors sent out an email of what books you will be needing for the class before they run out at the store."
Other students such as senior Tanner Stephens often tackle the costs of books by reselling them.
"In the four years I've been on campus, I feel like book prices make a big difference," Stephens said. "But if you can resell them, a lot of times you will get most of your money back."
The software Day One Access is another option that can provide students a lot of monetary relief. This software comes included in every students tuition, and is an adapting program to help students retain information more clearly.
The Wildcat Bookstore also offers payment plans which give students more flexibility in the monthly amount they would like to spend on technology, supplies and textbooks.
"I went to college," Stewart said. "I know that course materials are expensive and I know that we will not always have the best price. I would like students to start with us, give us a shot and go from there."