Music legends meet at the Egyptian Theater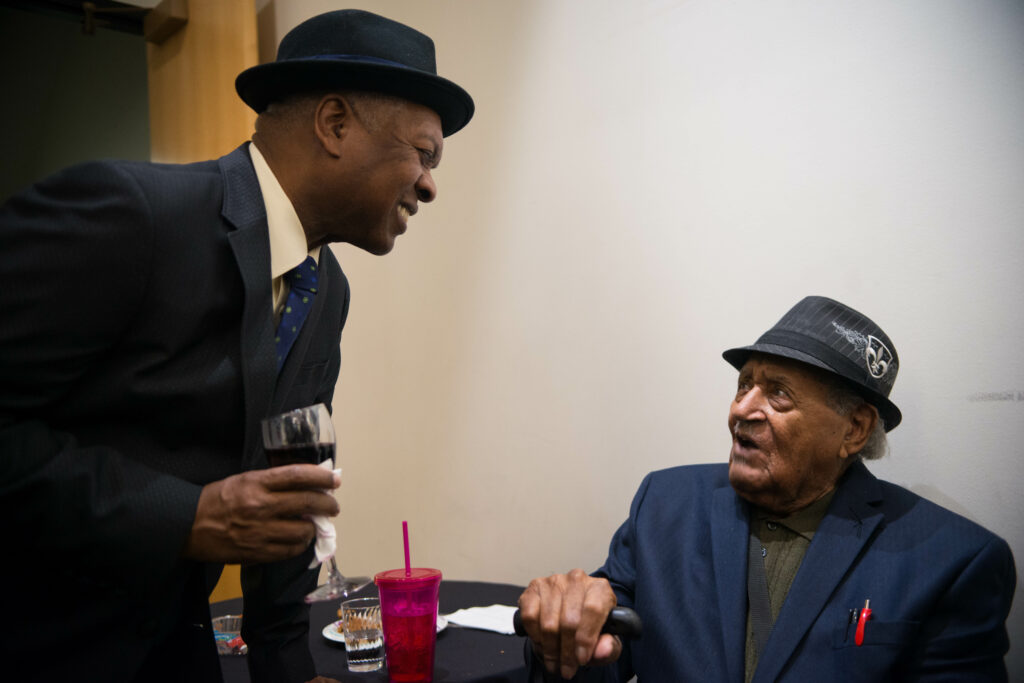 R&B legend Booker T. Jones and Ogden's own jazz icon Joe McQueen met on stage at the historic Peery's Egyptian Theatre on Jan. 18.
The two were invited by Ogden Friends of Acoustic Music, a non-profit that strives to bring music to those who don't have access to it.
"Our mission is to bring quality, world-class music to Ogden and to make it available to everyone," Cherri Wallwork of OFOAM said. "We have a very specific mission to bring music to under-served communities, especially the youth."
Both McQueen and Jones had performed earlier in the day and answered questions for a group of youth who had been invited to hear them play.
Jones, born Nov. 12, 1944, is a musical prodigy who entered into professional music at 16. He and his band, Booker T. & the MG's, played in Memphis while he studied music at Indiana University. They still often perform together today.
After nearly six decades of playing, Jones is still inspired by his passion for music that started at a young age.
"My mother was a beautiful piano player. I wish everyone could have heard her play," Jones said. "I love it. If I didn't play, I would listen to it all the time. I play for myself when I'm by myself."
Much like Jones, McQueen entered the professional music stage at 16. McQueen had played in Count Basie's band. When the band split up, McQueen reformed it in Ogden, Utah. He was the first African-American in Utah to play at previously white-only establishments and to have a mixed-race band.
McQueen has also worked as a truck mechanic and automotive technology instructor at Weber State University. In 2002, "Joe McQueen Day" was officially established on April 18.
McQueen opened the night by introducing his band: Dr. Don Keipp played drums, complemented by Ryan Conger on the Hammond Organ and Brad Wright on the guitar.
During his set, McQueen played solos in many songs, which all raised thunderous applause from the nearly-full house in the theatre audience.
McQueen encouraged the crowd to get up and dance to his song "Tender Lady," acknowledging there wasn't much room in the aisles.
At the end of his set, he exited the stage to a standing ovation, which lasted for nearly five minutes.
Jones came on after the intermission and played his first song with his regular quartet. McQueen then joined him on stage to play several pieces with him, including classic covers.
Along with the dynamic duo, Jones' son, Ted Jones, played beside him on the guitar, with Darian Gray on the drums and Lawrence Shaw on bass while Jones played the Hammond B3 Organ.
"Anytime you can spend time with family and work at the same time is a rare opportunity. So now, we have a family operation, and it makes you live longer," Ted Jones said.
At the end of his set with McQueen, Jones played "Happy Birthday" for McQueen, who will turn 100 years old in May. This brought the crowd back to their feet.
Jones then played some tracks that had made Booker T. & the MGs a household R&B name in the 1960s.
Jones picked up a guitar toward the end of the show and played next to his son; the duo sang "Purple Rain" by Prince.
For the last scheduled song of the night, Jones played his first-ever recorded song, "Green Onion."
"The bass player said that 'this tune is so funky that it smelled like onions' so we wanted to call it 'Funky Onion,'" Jones said. "But the record company owner said 'Funky Onion' wasn't conservative enough, so let's change it to 'Green Onion.'"