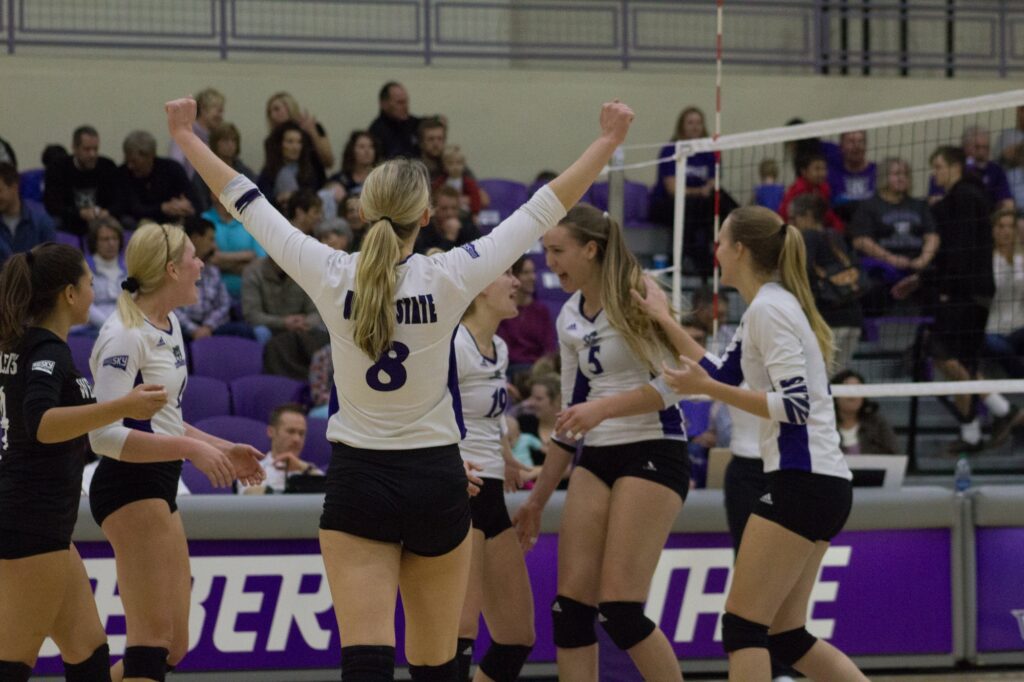 The Weber State University volleyball team took on a floundering Portland State University program on Nov. 10. The Vikings proved to be no match for the Wildcats, who swept the match in three sets at the Swenson Gym.
WSU improved to 16–9 on the season with the victory, while Portland State dropped to 5–23. The Wildcats sit in third place in the Big Sky Conference with two games left in the regular season.
Weber's success can be attributed in large part to senior outside hitter Andrea Hale, junior outside hitter/middle blocker Megan Gneiting, and junior middle blocker Hannah Hill-DeYoung.
Hale is on pace to more than double her season totals in digs and aces as compared to last year. She showed senior power Saturday with 11 kills, two aces, and eight digs en route to leading the Wildcats in scoring with 13.5 points.
Gneiting has already outdone her totals from the previous season in kills, digs, and points. She helped herself to six kills, two aces, five digs, and nine points on the evening.
Hill-DeYoung has continued to improve her career over the course of this season, recording more points and fewer errors than in her sophomore campaign.
She was the definition of efficient in the match with Portland State, contributing nine kills on 12 attacks with no errors for a career high .750 hitting percentage. She also led the team in blocking on her way to scoring 10.5 points.
WSU experienced little push-back in the first and third sets of the sweep, but the second set proved to be a challenge for the Wildcats.
Weber State won the first set 25–14, but the second was much closer. The Vikings were determined to tie the match at one win apiece, as they took the 'Cats down to the wire tied at 24.
However, Weber State capitalized on two consecutive errors to bring the set to a close.
In the third set, the Wildcats ran away from the Vikings with a 25–12 triumph.
The Wildcats will hit the road for a matchup with the University of Montana tonight, before they return home for Senior Night against the Montana State Bobcats on Saturday. Before the game, WSU will honor Hale, it's lone senior.
"It's bitter sweet, definitely more bitter right now," Hale said. "I don't want to leave. I love these coaches, I love these girls. This is my home."
Following the match with MSU, Weber will continue onward to the Big Sky tournament in Greeley, Colorado. It will mark the third consecutive appearance in the tournament for WSU.
The tournament will begin on Thanksgiving Day and continue through Nov. 24.