Weber State University President Charles Wight announces resignation
After announcing his plans to step down as the Weber State University President, Charles "Chuck" Wight and his wife Victoria Rasmussen left the auditorium with tears in their eyes on Jan. 18.
Wight plans to leave the university at the end of the 2017–18 academic year after five years as president. Wight stated he is now a presidential candidate at several universities across the country.
"Because my candidacy at one of these universities may soon be public, I decided to tell you now, so you can hear it from me rather than from some other source," Wight said during his announcement.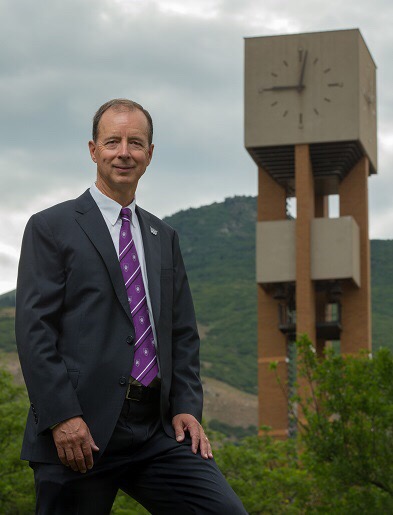 Wight also wanted to make the announcement now to give the Board of Regents the opportunity to begin the search for a new president.
According to Melanie Heath, spokeswoman for the Utah System of Higher Education, a replacement will most likely not be found before Wight's departure.
"We anticipate there will be an interim (president)," Heath said. "They should be named this spring."
Throughout his time as president, Wight has held high-reaching goals. When he became president in 2012, he told Deseret News that his primary goal as president would be Weber State's contribution to Gov. Gary Herbert's goal of having 66 percent of Utahns holding a post-secondary degree or certificate by 2020.
As a step toward this goal, Weber has seen record-high enrollments within the last two years, with 26,809 students enrolled in 2016 and 27,949 students in 2017, according to higheredutah.org.
In a written statement, Board of Regents Chairperson Dan Campbell said Wight has accomplished more than just record enrollment during his tenure.
"Under his leadership, the university has completed a comprehensive fundraising campaign, which surpassed $125 million, broke ground on several new buildings, including the Tracy Hall Science Center, and has elevated key priorities in order to keep Weber affordable," Campbell said. "We wish him success as he starts this new chapter."
While Wight has received high praise, his time at the university has not been without controversy. In early 2017, Wight sent an email to the entire university population that took heavy criticism for its partisan appearance.
In the email he stated in part, "We respectfully urge the Trump administration to reconsider the recent executive order on immigration and reopen our country's doors to the many international visitors and refugees who help make our nation and university great."
The office of the attorney general found that Wight did not violate any statute or university policy with the email.
Wight released a statement that noted he only sent out the email in support of the campus community.
It is this campus community that Wight is leaving for new adventures.
Although Wight says he is ready to seek this new adventure, deciding to leave Weber was a difficult decision. After his announcement, Wight and his wife were seen clustered together, hugging other members of the faculty.
"Weber State is a special, even magical, place," Wight said. "Everyone here understands our mission and comes to campus each day eager to work on a team that is fulfilling that mission. … This kind of positive institutional culture is rare among universities, and it has been an honor to lead an institution so unified in its commitment to educating students and preparing them to do good in the world."