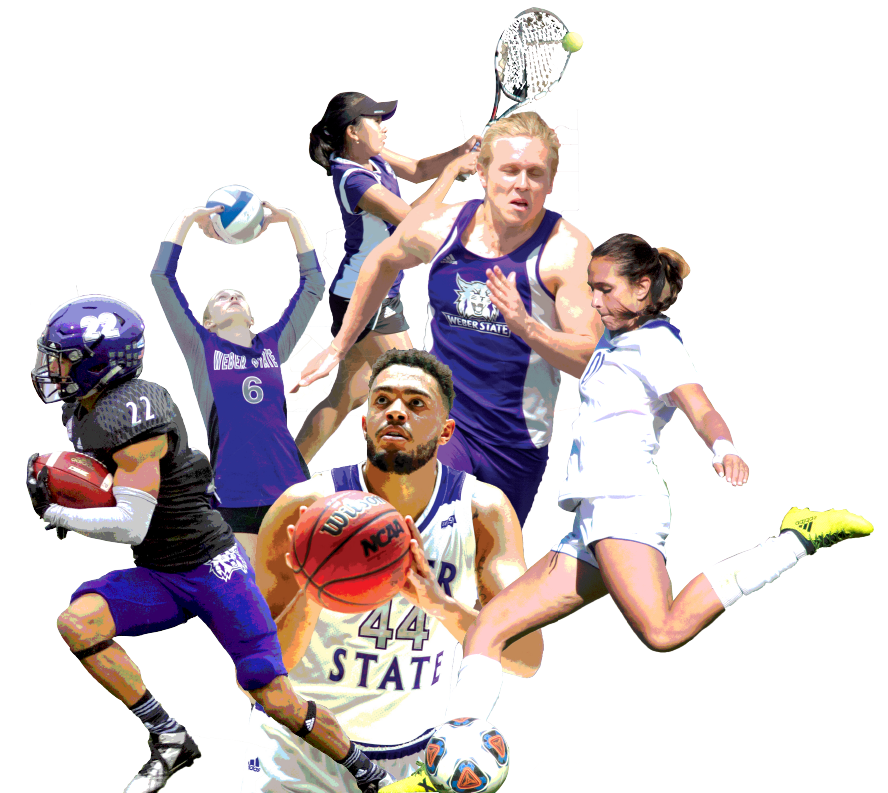 One of the many facets that play into success in college athletics is recruiting: when the schools persuade athletes to join their programs.
The process is expansive, as the development of these relationships with athletes, families and high school administrations can start as early as junior high school and continue throughout their entire high school careers.
Although it is not the largest or most recognized university around, Weber State University continues to be passionate and consistent in their recruiting efforts.
While the success of former Wildcat athletes who now play professionally can help the exposure of the program, there are athletes throughout the nation who may have never heard of the school at all.
Many Weber State coaches and recruiting personnel find success in building these relationships by first assuring that it is not, "just Weber State," which is certainly a common misconception held both locally and nationally.
Weber State Volleyball head coach Jeremiah Larsen and his staff have personally seen this over the years and have worked to exile that preconceived notion.
Larsen said when they travel for games, they often here Weber referred to as "Just Weber." He argues the moniker has a negative connotation for the university and for the athletic program.
"When people come here, they see how much money is put in towards our athletic program in terms of facilities, tutors, and all the wonderful opportunities to help them be successful. It's not 'just Weber,'" Larsen said.
Once coaches are able to establish that idea, then the vetting and evaluation of the athlete occurs, which can be intricate due to the recruiting rules and regulations established by the NCAA.
There are NCAA guidelines that pertain to all sports, such as the contact that coaches can have with high school athletes, official campus visits, as well as what the university can legally provide the athlete.
As an example, coaches cannot have official contact with a high school athlete until Sept. 1 of the athlete's junior year. It can seem to be an ever-evolving rulebook, as guidelines and regulations are often edited and changed to better the recruiting process in general.
One shared sentiment of all coaches and personnel was the importance of finding the right player for the spot, rather than just the best possible player. Head coach of the University of Washington football team Chris Petersen refers to these players as, "our kind of guys," or "OKG's."
Weber State women's basketball head coach Bethann Ord mentioned this includes seeing what kind of person they are off the court, which can be just as important as their athletic ability.
Ord said, "We watch them grow. We look at them not just on the court, but when they're on the bench and what they're like as teammates. Something very important is character and work ethic. Sometimes you can only see so much, but I think identifying kids early and following them helps."
Another key aspect of recruiting is the focus and determination to "win the state," or to get the best local talent to commit to your program. Utah has a large amount of unheralded but talented athletes residing within the state.
Weber State football recruiting coordinator Preston Hadley focuses on in-state recruiting and the importance that it plays to the program.
"Our goal is just to win the state in recruiting. I'd say at least 60–70 percent of the recruiting class comes from the state, but we'll recruit the entire western region," Hadley said. "I think we've done a good job of just pulling the right kids from those areas and getting them into the program. There's lots of talent in-state that you can win a championship with."
Wildcat athletes hail not only from around the country, but around the world.
Some athletes who made the commitment to resettle their lives in Ogden are Gina O'Brien, women's basketball center from Melbourne, Australia; Pihla Hokkanen, women's cross country runner from Savonlinnan, Finland; and Peter Thomas, track & field thrower from Gainesville, Florida.
Senior women's basketball guard Kailie Quinn was one of Weber State athletics' local recruits, joining the Wildcats out of Judge Memorial high school in Salt Lake City.
Quinn said Weber was one of the first universities to call her, and they persistently called her to keep up during the season.
"Eventually, they brought me out on a visit, I fell in love with the program, what the coaches had in mind, and basketball is what got me here," Quinn said.
Quinn also highlighted the fact that she was sold on the direction of the program rather than the program's current standing.
"My main reason why I came to this school is I believed in the potential in the school," Quinn said. "The year before I came in, they had an 0—22 season, so that's not much of a recruiting point, but I believed that I could come in and help the program be where all the coaches wanted it to be."
This is a significant aspect when rebuilding, as one of the most logical starting points is filling the roster with athletes who have the ability and drive to turn that misfortune around.
Although recruiting can be a lengthy and daunting process, it is still exhilarating for the coaches and recruiting personnel.
"I get to go watch volleyball. It's my passion in life," Larsen said. "That part is fun, and I really enjoy interacting with kids that have the same passion for volleyball that I do and portraying to them what I think they are going to become here, and how I believe in them."
Weber State Director of Compliance Will Pridemore emphasized the eligibility aspect as one of his favorite parts of recruiting.
"It's rewarding when we get waivers and stuff like that when a student-athlete wouldn't be able to compete or wouldn't be able to do something by NCAA rules," Pridemore said. "Then, we apply for a waiver and that gets approved, and then they can do what they want to do. That's one of the most exciting parts of the job."
Although Hadley debated picking "trying new food," as his favorite part of recruiting, he settled on the relationships he is able to build and monitor during the process.
"Getting to know all of the recruits, parents, coaches and counselors, even their principals. There's just a whole support system for a lot of these kids, and getting to know those champions in their lives, it makes it a lot of fun," Hadley said.
To an outsider, recruiting can be seen as difficult, cumbersome and tiring. However, it is apparent Weber State sees this process as not only rewarding, but also thoroughly enjoyable.
The university will look to further its recent successes and positive momentum in athletics by continuing to be passionate for recruiting, "winning the state" and getting the right athletes to buy into the overall goal and vision of the program as a whole.