In a Dining for Dollars fundraiser, Sonora Grill raised $11,888 for WSU's Oportunidad Scholarship Fund on March 2.
With a private donor who matches the amount raised, the Oportunidad Scholarship Fund will actually receive $23,776 from the Dining for Dollars event.
The Oportunidad Scholarship Fund was established to help first-generation college students who demonstrate aspirations of attending Weber State as well as financial need.
One of the requirements for the scholarship for these first-generation students is that they cannot be FAFSA eligible. This scholarship is specifically geared for those people who do not qualify for federal or state aid.
Sonora Grill Owner and Operator Steve Ballard established this event four years ago in order to help minority students to realize their dreams of going to college.
"One of the biggest obstacles they have to overcome is education," Ballard said. "They have grown up here, but because federal financial student aid is based on parents income or parents' residency status, most of them don't qualify."
Many students who are ineligible for federal aid believe that college is out of reach for them, due to their undocumented status. However, privately donated scholarships like the Oportunidad Scholarship that Sonora Grill helps fund can be given to those students who would not otherwise be able to attend college.
"Because a lot of the local governments can't do anything about that," Ballard said, "it really creates a gap that I believe private business can then come in and help overcome because private business can award scholarships."
Director of Office Access and Outreach Ruth Patino Stubbs said that they were able to provide 12 full-ride scholarships for the academic year 2015-2016.
With the money Sonora Grill raised this year, they will be able to continue funding for 12 full-ride scholarships next year.
Stubbs also said that the students who receive the Oportunidad Scholarship are carefully selected according to their commitment and desire to go to college.
"As we read their stories about what they've overcome and their commitment and desire to go to college, it's just very heartfelt," Stubbs said.
Several of the Oportunidad recipients, like WSU student Ana Reyes, said they faced financial hardship, judgement and racism due to their undocumented status.
In high school, Reyes' experienced discrimination from teachers. Her math teacher even told her that Hispanics could never go to college.
But instead of letting that bring her down, Reyes said, "I've been trying to prove her wrong."
When she first started college, Reyes also had to deal with not having a work permit. She said that it's hard for people in that position because they cannot work to support themselves, but they also can't leave the country because they wouldn't be allowed back in.
"It feels hard, like you're in a cage," Reyes said.
Monica Rodriguez, the Oportunidad Scholarship adviser, also said that many of these students grew up around here, and they strongly identify as American. For them to go back to the countries they were born in, it would rip them away from their homes, so for many undocumented students, the Oportunidad Scholarship was key in letting them stay in the community and attain a college education from Weber State.
Another Oportunidad Scholarship recipient Leticia Mata said that she thinks Dining for Dollars is a great event because that's how students like her can get the financial help they need.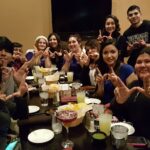 Mata calls herself and students like her Dreamers. She explained that a Dreamer is a student who doesn't qualify for FAFSA but still dreams of going to college.
"Every single dollar matters in the case for a Dreamer," Mata said. "So I just say thank you. Without this scholarship, I wouldn't be in college. I wouldn't be the person I am now."
Pre-med student Joaquin Zetina also expressed his gratitude for the scholarship: "I'm just grateful that there are people out there who are aware of the struggle and are willing to help because it does help. They really do make a difference, at least in my life, so that I can make a difference in other people's lives in the future."
In her work with these students, Rodriguez comes to know and love the students almost as her own children. As tears filled her eyes, she said, "When they leave this institution, it's like, 'My child is graduating today,' but I know we are sending someone through that door with better tools in order to fight in life."