Wildcat hurdler striving for Moore
On Dec. 4, Weber State kicked off their indoor track and field season with their first meet, the Weber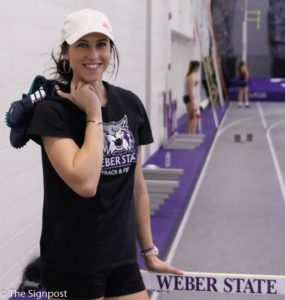 State Indoor Invitational. There are many great athletes on the WSU track and field team, but there are only a few who consistently place in the top ranks. One such athlete is junior Tawnie Moore.
Ogden native Tawnie Moore took an interest in track and field in junior high school. Moore began racing in the seventh grade and followed that passion into high school and college.
"I remember it like it happened yesterday. I saw a hurdle and thought this would be kind of fun,"said Moore during an interview. "I tried to jump over it and slammed my face on the ground. From that moment, I knew this was something that I wanted to pursue and get better at."
Moore currently holds the Fremont High School 100-meter hurdle record, the Weber State University 60-meter hurdle record and is currently on the list of top 10 all-time track and field athletes for other events in the nation.
Moore believes her ultimate achievement this far in her career is " … breaking the school record last indoor season and getting featured in the Standard Examiner. The recognition was humbling and I am thankful for all of my athletic ability."
Last season, Moore broke the record at WSU for the 60-meter hurdles and moved up in the rankings for the 55, 60 and 100-meter hurdles. Moore had the opportunity to travel to California and compete with the nation's best athletes at the Mt. Sac Cross Country Invitational where she scored and lettered.
Although there are many great track and field athletes competing in the Big Sky Conference, Moore is a force to be reckoned with. "I feel like with my mindset for success and my passion for competition, I can not only set my own expectations higher, but also push my competitors to bring out their drive as well," said Moore.
Moore's season didn't just start at the beginning of December, but every month leading up to it. Moore works hard everyday on the track, in her studies and in everything else she does.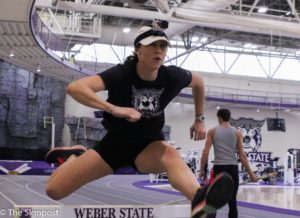 In preparation for her season, Moore says she "embraces the unexpected outcomes in whatever situation I am in." She tries "being open to new experiences that may alter the way my previous mindset was present to be. Instead of turning down the unknown due to subliminal fear, [I] turn to face and take these situations head on. Fearlessly."
For this season, Moore has been focusing heavily on her technical abilities. "Of course we train every day for speed, but I have been solely focused on my technique and what I can do to improve my skill."
As well as training her technical abilities, Moore is also focusing on becoming more mentally tough and finding that perfect balance between her studies, her team and other conditions life throws at her.
Moore plans to finish her degree at Weber State University in organizational communications and push towards her fundamental dream: racing in the Olympics. Moore will join her team on the road to Pocatello, Idaho, where they will race in the Snake River Open on Jan. 15. The Wildcat track and field team will be back on home Jan. 22 for the Weber State HS Developmental Meet and Jan. 29 for the Weber State Indoor Invitational.