Discussion of new senate bill reveals the path to political candidacy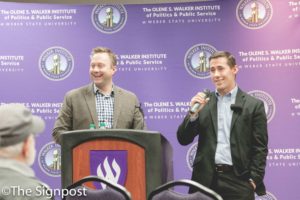 As people across the nation focus on this year's presidential elections, residents of Weber County learned about the path they could take to run for political offices in Utah.
On Wednesday night, the Olene S. Walker Institute hosted a seminar to discuss the new process of getting onto Utah primary election ballots through the Count My Vote initiative and Utah Senate bill 54.
"Senate bill 54 and the Count My Vote initiative are so new and so complicated that we decided it would be a good topic to launch the (Walker Political Leadership Institute Series) this year," said Walker Institute Director Carol McNamara. "So we invited the experts to come in and talk to the community to explain to them what it is and how it works."
Taylor Morgan, Count My Vote executive director, and Justin Lee, Utah Lieutenant Governor's Office deputy director of elections, spoke before a small crowd addressing what Count My Vote is and how it affects Utah primary elections.
Morgan explained that the Count My Vote initiative was formed to be more inclusive in allowing potential candidates to get on primary election ballots.
"We at Count My Vote determined that, at the time, the caucus was a barrier to participation," Morgan said. "So the Count My Vote initiative was intended to reform that system."
Under the original plan, the Count My Vote initiative would completely replace the caucus system where candidates are nominated through party conventions. Count My Vote intended to replace that system with a signature gathering process instead, where candidates would gather a certain number of signatures from voters to earn a place on primary ballots.
When senate bill 54 was passed into law, it didn't completely remove the caucus system, but instead, it added the signature gathering process as an additional way for candidates to be put on ballots.
"SB 54 was very different from (the original Count My Vote initiative)," Morgan said. "SB 54 is a hybrid approach that keeps the caucus convention system while also providing the alternative signature gathering path, so that's what we have now."
After Morgan finished talking about Count My Vote and senate bill 54, Lee then spoke about the details of the process to get on primary ballots either through the caucus system or through the signature gathering alternative.
"I think (the seminar) was really good because I think it's a really confusing issue," Ogden resident Stephanie Edmonson said. "I'm a caucus chairman, and to try to understand how it works is really confusing."
The president of the Ogden branch of the NAACP, Stanley Ellington, was at the seminar to learn more about increasing voter participation but afterward said the event was not exactly what he was expecting.
"I decided to come out and see what they had to offer because my interest is how we can increase voter registration and increase the participation in voting," Ellington said. "Tonight gave me some ideas, but I need to ask some more questions because it seemed to be geared toward the people that are in the process to be a candidate for election where I was looking for more information on how people could be more involved as far as registered voters, as well as participating in the process."
Ellington added, though, that despite the event not being exactly what he'd expected, he still found it informative.
"I'm not totally familiar with the process, but I do have more information to work with now," he said. "If I decide to run for office, I know what to do."
The next seminar in the Walker Institute series will be held on Feb. 17 from 7-8:30 p.m. at the Dumke Legacy Hall. Rep. Rob Bishop, Davis County Democratic Party Chair Stroh de Caire and Northern Utah Director for Sen. Mike Lee's Office Ryan Wilcox will discuss caucus participation and how to become a delegate at the county and state-level party conventions.