WSU alumnae return for benefit concert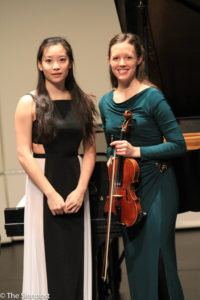 The halls of the Browning Center reverberated with music on Saturday night as two former Weber State University musicians returned to blend the sounds of the violin and piano for a packed Allred Theater.
Moriah Wilhelm Rowe and Fanya Lin played before an audience of more than 170 for a concert to raise money for scholarships.
"They contacted us and said, 'Hey, we're gonna be in town. Can we do a concert? And we'd like to do it as a benefit for scholarships for future students,'" said Catherine Zublin, interim dean for the Lindquist College of Arts and Humanities. "The theater was available, and we knew about this early enough so we could sell some tickets, so it was kind of a perfect storm, and it all worked out and tied together nicely."
Rowe said that she had emailed Lin to see if she would be interested in doing the performance. When Lin heard about the opportunity, she quickly agreed to play.
"We hadn't seen each other for quite a long time, like after we graduated," Lin said. "We used to play together all the time when we were both here studying, so I just thought it's a really nice opportunity."
Lin played three solo piano sonatas written by composers Domenico Scarlatti, Aleksandr Scriabin and Sergey Prokofiev.
Rowe joined Lin on stage with her violin to perform "Scènes de la Csárda No. 2, Op. 13" by Jenö Hubay and "Violin Sonata No. 9 in A major, Op. 47 'Kreutzer'" by Ludwig van Beethoven.
"The Hubay is really fun," Rowe said. "I love the Hubay, but it is so challenging."
Rowe and Lin returned to the stage one last time after performing "Kreutzer" to give an encore performance of a scherzo written by Johannes Brahms.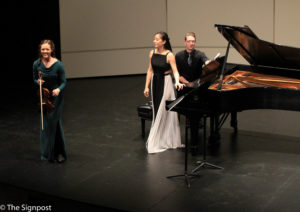 "It felt great. It was so fun to play with Fanya again," Rowe said. "The music is exhausting, of course, but the music is so fun and so rich."
Friends and family in the audience praised the duo's performance after the concert.
"Tonight's performance was incredible," said Weber State music education student Broderick Behrmann. "I knew Fanya and Moriah when they went to school here for their [undergraduate degrees], and they were both incredible then, and it's just incredible how even more amazing they are now."
Rowe's sister, Elizabeth Wilhelm, said that being able to see her perform was a special event for her.
"I think she did fantastic. It was beautiful," Wilhelm said. "It was so much fun to get to hear her play because we don't get to hear her as often just because she's back east. It was a real treat to see her tonight."
For both Rowe and Lin, the concert was a happy homecoming. Rowe said that, for her, it was a joy to see all of her friends and family and professors once again.
"It's always nice to come back and perform because the audience responds strongly, and that's what I enjoy doing," Lin said. "Coming back here always feels like coming back home."