Jay Hill. His path to Weber and the success Behind the Football Program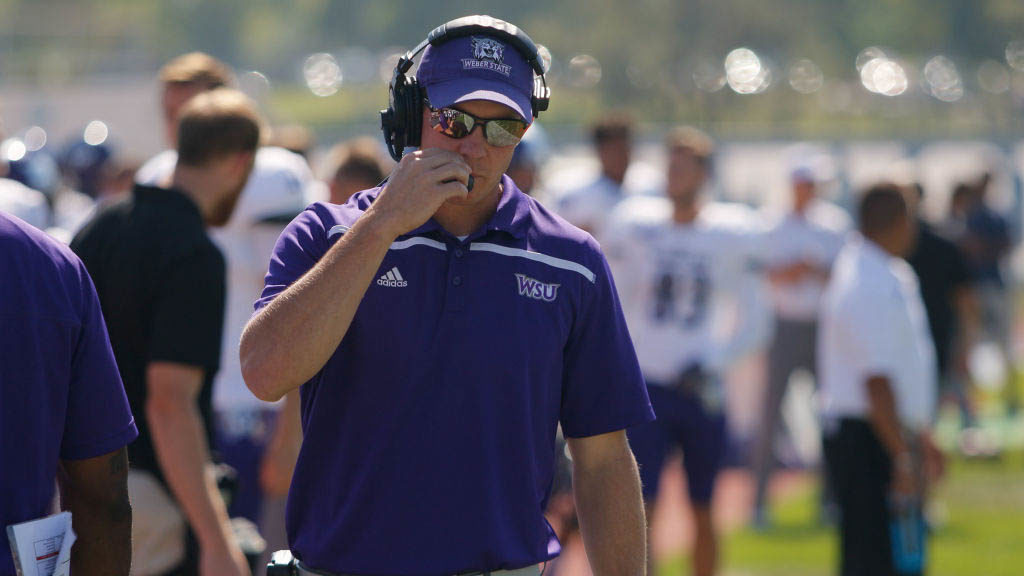 Jerry Bovee, Weber State's former athletic director, first met Jay Hill on Dec 12, 2013. The meeting was scheduled late the night before for 8 a.m. the following morning. Bovee remembers the impression Hill made.
"He's giving us a presentation, and he had a booklet with our logos embedded in it," Bovee said. "I mean, it was his game plan on how Weber State was going to win."
As Hill removed the items from a bag, a receipt fell onto the floor. Bovee read it. The Kinko's receipt was date-stamped from the night before at 1 a.m.
"In my mind, I'm thinking, 'He's been up all night getting ready for this, and he was as sharp as they come,'" said Bovee. "He was hungry, he had a desire. He was looking at this as an opportunity, if the fit worked."
Since Hill took the head-coaching job in 2014, he has proven that the fit works. Back-to-back conference championships. Back-to-back 10-win seasons. Three straight FCS playoff appearances. Ranked as high as third in the nation. All these WSU records set in just three year. Now, fans are eagerly waiting to see what's next.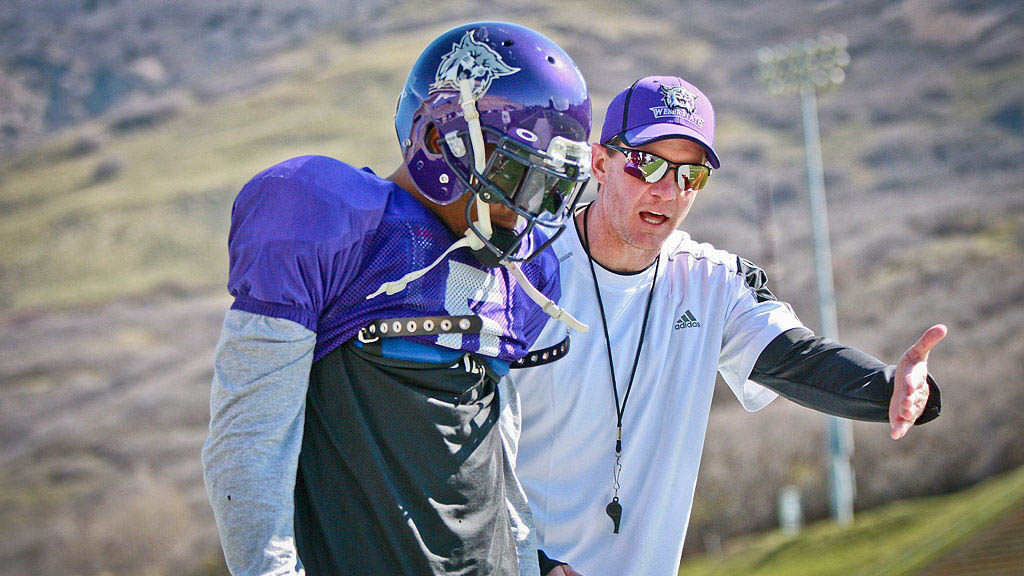 Following the retirement of Ron McBride after the 2011 season, the Wildcats went through two coaches in quick succession.
"It was a difficult, dark time," Bovee said. "Anytime you change a head coach, especially in football, it reverbs your whole program."
After the 2013 season, the school was in need of its fourth head football coach in just three years. The record of those years combined was 9-25. The record proved the state that the program was in, familiar and desperate.
"We were really looking for someone with a good understanding of the State of Utah, who knew the recruiting dynamics of Utah and who understood the culture in Utah," Bovee said. "Jay really emerged pretty early. There were other people we talked to … but at the end, he emerged at the top."
After the three year rollercoaster of coaching changes and the 'Cats fair share of ups and downs, Hill was hired.
Hill had started his coaching journey after his playing days at the University of Utah in Salt Lake City. In 2001, he was hired as a graduate assistant at the U of U under McBride, who at the time was the head coach at Utah.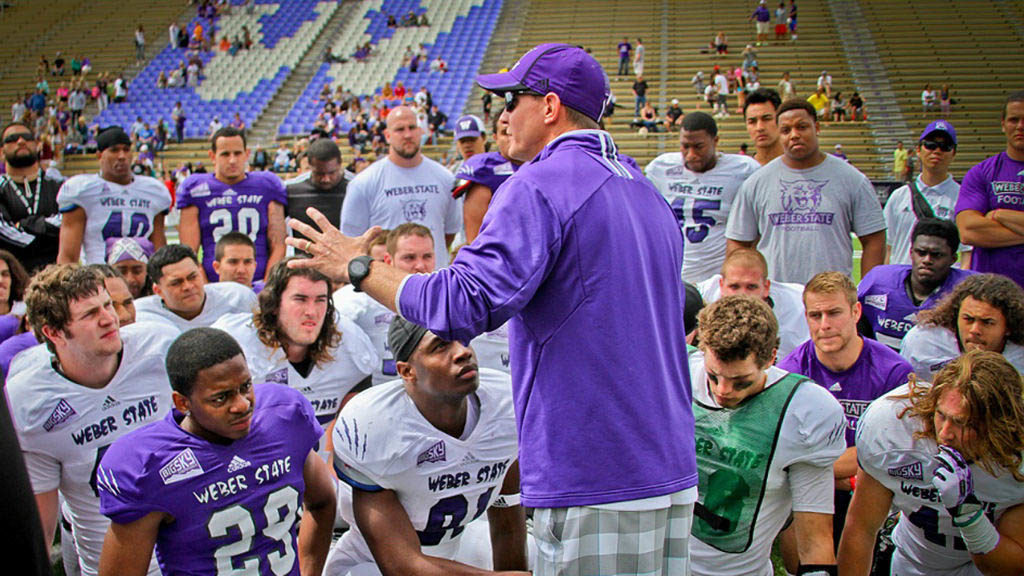 "I first started coaching because it was my way of paying for graduate school, and I really didn't have a huge intention of coaching as a career," Hill said. "When I started doing it, I just loved it and was hooked. It's the closest thing you can get to the game atmosphere and experience that you get as a player … coaching is the next best thing."
Hill stayed at Utah for the following 13 seasons under McBride, Urban Meyer and Kyle Wittingham, coaching different positions throughout those years. Hill experienced a winning culture at Utah, as he was a part of so many wins and record-setting years with the Utes.
Weber State gave Hill his first opportunity as a head coach and is seeing the fruits of his tutelage at Utah under those three head coaches.
From the outside, the WSU football program is thriving. 10-win seasons, hosting FCS playoff games, conference titles and consistent rankings in the top 10 are proof of this.
On the inside, the thriving stems from a vision set before Hill arrived. Hill's dedication to the program has only added to this vision.
"I came in here looking at the job for sure, but I wasn't really fired up at taking the job at the time necessarily," Hill said. "When I got to meet administration and got to see the program and what it could become, I was 100 percent sold. The vision that they were trying to build got me excited."
With new facilities, and support from the administration and community, Weber State is working at that vision, to be nationally relevant while competing for a national championship.
"When we started walking around campus, he was surprised at what we had here," Bovee said. "He didn't know we had an indoor facility, he hadn't seen the vision for a north end project. Coming in, he didn't see that our mindset was in place to build a national program. After he left that day, I think he clearly saw that."
in his first five years at Weber, Hill has established himself among his players. Bovee said Hill has guys on the team who are willing to run through a wall for him. They love him and love playing for his coaching staff. This attitude of discipline and the meeting of expectations have derived from Hill as the head coach.
"I remember my first team meeting. I got in there and told all the players to turn off their cell phones and three phones went off in the meeting," Hill said. "I told the guys to sit up and they were slouched back. It was a weird atmosphere that I was not used to seeing coming from the University of Utah."
The weird atmosphere that surrounded the program is gone, replace by a feeling of the need to achieve Hill's expectations.
"I think coach Hill shows his players what he wants and how to achieve it. He sets standards then holds every player accountable to those standards set," former player Jordan Preator said. "He has a good mix of pushing players to get results as well as loving them up so you feel the camaraderie."
Preator said that these expectations and the sense of accountability bring belief in the head coach, other coaching staff and the players on the team. The expectations and accountability that Hill invites into the locker room and the program have proven to produce success.
"You base your team off toughness and discipline, but I want players that are excited to play the game, that are self-motivated," Hill said. "We build our program on that. We want it to be player run like they have ownership in it. We want them excited about what they are building each day."
"A player's coach." The term can be understood in different ways. A coach whom players play for out of fear or a coach who is in it for his players, hoping they feel he is approachable. Describe it how you want. Bovee believes that Hill has a good sense of balance when it comes be a player's coach.
"Football is a hard one to balance," Bovee said. "You got 105 guys on your squad. You got 10 other coaches that you're trying to keep in the same flow; it's a hard organization to run. He has a way of getting the players to buy in. He's got a lot of expectations, but he showers them with a lot of love and support."
The balance of expectations and support needed for a successful football program derives from many, but the application of this balance develops under the head coach and his coaching principles.
"For me, coming out of my Juco (Jr. College) and coming on my visits and being around coach Hill during my visits, he treated me like I was more than a football player," said Parker Preator, the brother of Jordan Preator and a former player. "He cared about my family, my interests, my goals, my education and my religion."
Hill sees his players and potential players as more than athletes on the field, he challenges them to be their best selves.
"I admired how coach Hill was always challenging me the minute I stepped on campus," Parker Preator said. "Whether that was who could bench more, who could run to the football faster, pickle ball or basketball."
The program's recent success has proven that Hill has transformed it into something special. He transformed it into a winning culture where his players are willing to play their heart out.
"He wants to see the best me in everything," Parker Preator said. "That is a coach you play your heart out for every time you step on the field."