Inside the Numbers: Second Round FCS Playoffs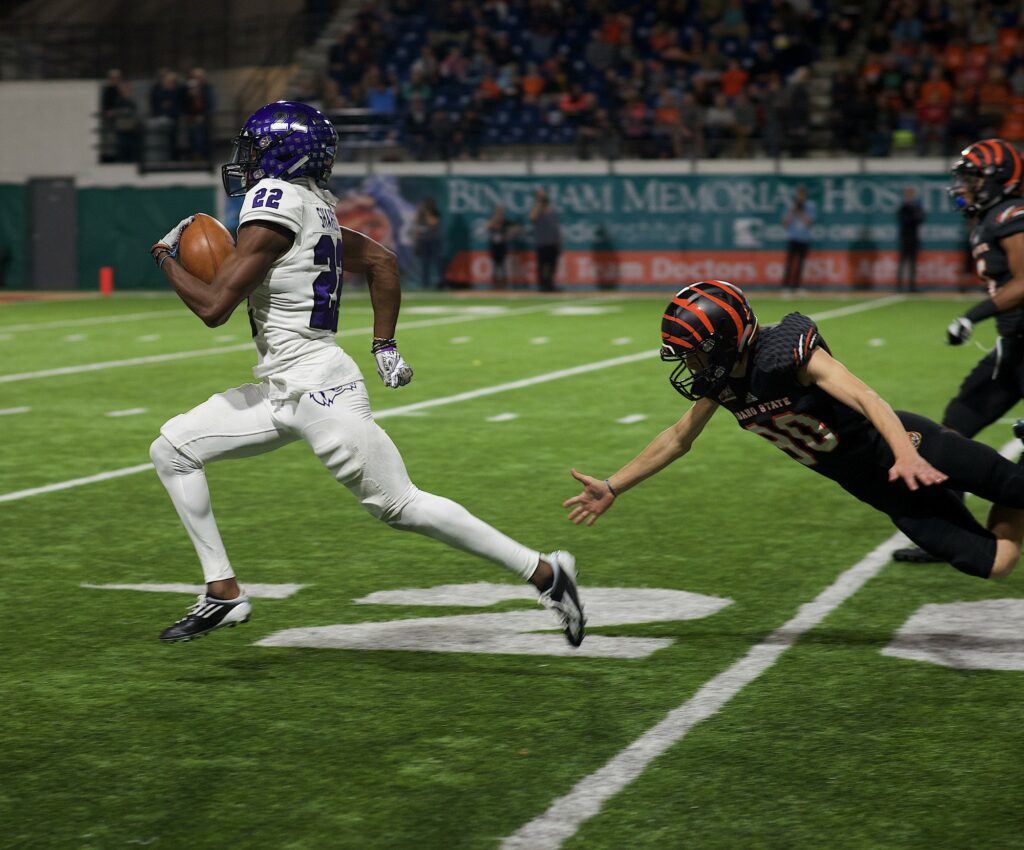 The Southeast Missouri State University Redhawks will face the second seed Weber State University Wildcats in the second round of the 2018 FCS playoffs on Dec.1. The rested Wildcats enjoyed a Thanksgiving bye week while the Redhawks eliminated Stony Brook with a 28–14 rout in their first-round matchup.
Despite giving up over 400 yards of offense and losing the first down battle, Southeast Missouri State found a way to get the job done on the defensive end by forcing four turnovers. On the other side of the ball, junior quarterback Daniel Santacaterina led the Redhawk offense with four touchdowns, including one rushing.
The teams took different paths to the same destination. The Redhawks are fueled by their efficient offense but have struggled on defense throughout the year.
On the other hand, the Wildcats thrive on defense but have shown that scoring can be a challenge, especially if they don't get the running game going.
The red-hot Redhawks come into Ogden winning seven of their last eight games, partially thanks to their well-balanced offensive attack.
Senior running back Marquis Terry has been the workhorse on the ground for the Redhawks with 1,293 yards and 14 touchdowns on 206 carries so far this season. Terry will need to be at his best against the 17th ranked run defense in the FCS.
"We know they have a solid running game, so that's one area we are really focused on stopping," sophomore safety Trey Hoskins said.
As for their efficient air attack, Santacaterina's 60 percent completion rate, 2,700 yards and 28 touchdowns explain how easily this team has shown they can move the ball.
The Redhawks have three receivers with over 450 yards and two touchdowns on the season, but junior receiver Kristian Wilkerson is clearly Santacaterina's favorite target. With 863 yards and 14 touchdowns on 59 catches, Wilkerson will have to work a little harder than usual against a strong Wildcat secondary.
"The main people we are focused on containing in the pass game are their top two receivers: numbers six and four," Hoskins said of Wilkerson and his counterpart, junior Jerrick Orr.
Despite their season-long success, the Redhawks' offense has a tough task ahead, facing a defense that is ranked number one in scoring and total defense in the Big Sky. With ten players on this defense recently selected All-Big Sky, it's clear that opposing offenses have faced monumental challenges when squaring up with the Wildcats.
It all starts up front with a stout defensive line led by senior lineman Filipe Sitake and junior defensive end Adam Rodriguez, who leads the team in sacks.
The Wildcat defensive line is supported by one of the best linebacker scores in the FCS, a core led by two First Team All-Big Sky selections, and the two leading tacklers for the Wildcats, LeGrand Toia and Landon Stice.
Stice also leads the Wildcats in interceptions along with senior cornerback Keilan Benjamin.
Benjamin, along with First Team All-Big Sky safeties Jawian Harrison and Jordan Preator, will look to do what they have been doing all season. The secondary has allowed just over 200 yards passing per game for opponents adding 13 interceptions and have only given up 14 touchdowns in 11 games.
With extraordinary talent on all three levels, the Wildcat defense will look to be the catalyst for an offense who ranked last in the Big Sky in total offense this year.
Luckily for the Wildcats, Southeast Missouri State gives up almost 500 yards a game but also average over 400 yards of offense and 38 points per game. Conversely, Weber State, on average, allows opponents less than 21 points a game. However, the offense averages just under 170 passing yards per game along with a 3.8 yard average per rushing attempt.
The 'Cats will look to seize their home field advantage as the Redhawks come to Ogden for the first time. The forecast calls for 34 degrees and a chance of snow. The elevation should play a major factor for the Wildcats as Ogden is 4,000 feet higher than Cape Girardeau, Missouri.
"It's definitely going to be cold, but the snow, along with the elevation, will for sure play to our advantage since we are used to this environment," sophomore offensive lineman Mo Cannon said.
The second round kicks off at 2 p.m. at Stewart Stadium and will be televised on ESPN3.
"Why wouldn't you want to be here," head coach Jay Hill said after the Wildcats received a second seed.