Weber State benefits from ROTC program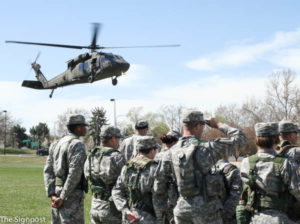 As a Weber State students walk the campus on Tuesdays and Thursdays, they might observe something different from other days of the week—students dressed in the recognizable digital camouflage of the U.S. Army.
These students are members of the Army's Reserve Officers' Training Corps, a program on many campuses where students train to become army officers while taking classes on campus. Although the army and other branches greatly from having ROTC units on college campuses, Weber State has benefited in turn by including an ROTC unit on its campus.
"We bring a lot of students on campus who otherwise may not come here or go to school," Captain Richard Ingleby, an assistant professor of Military Sciences, said.
Weber State's ROTC attracts many to the university. According to Captain Roger Gindlesperger Jr., there were 116 members of Weber's ROTC program last semester. One of the major draws is the financial aid that ROTC offers, including scholarships and tuition assistance.
Students who are currently enrolled in the ROTC program have also noticed how much their training has carried over into academic work. Cadet Taysia Gray is in her fourth year of the ROTC program and expects to graduate next semester.
"Being in ROTC, and playing basketball, has taught me to be responsible and how to manage my time. I think that's why I've done so well in college," Gray said.
Another student, Cadet Julian Chastain, said that he also benefited from the ROTC.
"They really push the military discipline," Chastain said, "and that really helps with maintaining your grades."
The ROTC has held flag football tournaments on campus and invited several guest speakers to the university. The ROTC has also represented the university on multiple occasions, one example being the ROTC Cadet Choir.
"We do veterans' benefits, we do Jazz games, we are doing Hill Air Force Base's holiday program this month," Cadet Choir Director Steven DiTomaso said. "There's different ways that they share their talents and show the fact that, not only are we in the military, but we're also Weber State students."
As students graduate from the university, obtain their military commission and begin their careers, they continue to represent the university. Weber ROTC Alumnus Brian M. Thacker is a noteworthy example of ROTC representation.
"We were looking through old ROTC alumni when we came across Mr. Brian Thacker," Captain Ingleby said. "He was a Weber College and ROTC graduate of 1969. [He] went on to serve in Vietnam and was awarded the Medal of Honor."
The Medal of Honor, the nation's highest military award for valor, was awarded to 1st Lieutenant Brian M. Thacker in 1973 for his actions in Vietnam. In 2014, Mr. Thacker was invited to Weber State to dedicate a memorial wall in his name. The ROTC hopes to move this memorial to the Fireplace Lounge along with Thacker's Medal of Honor as a shining example of a distinguished Weber State graduate.
"It's prestigious to have a Medal of Honor awardee that attended your university," DiTomaso said. "It brings the spotlight right back to the university."