Venturing into the Comics & Cartoons Art Exhibit, visitors might find themselves filled with child-like glee. The exhibit, featuring eight artists, held its opening reception on Jan. 15 in the Shepherd Union Gallery at Weber State University.
In the midst of the challenges college life presents, the Comics & Cartoons Art Exhibit offers a mental retreat. Turtles, trolls and even the Loch Ness monster decorate the walls of the gallery. While visitors admired the bright colors and caricatures, artists were able to bask in the fruits of their imaginative labors. To the creators, the art is much more than aesthetically pleasing wall decor. Each piece and collection allows a peek into what resonates most with each artist.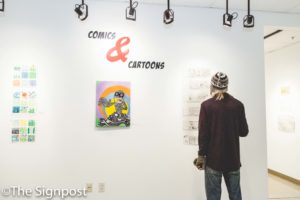 "What I was inspired by as a kid was "Mad Magazine." It's basically a satire magazine of cartoons that make fun of celebrities … One of my biggest inspirations is retro, throw-back, satirical art," said Joshua Petersen, an artist featured in the exhibit and senior at WSU. His love of satire is evident in his collection of troll paintings that integrate the omnipresent internet "troll."
Just as some art depicts certain themes like satire, other pieces might originate from a glance out the window. Johnathan "Mr. Reese" Whiting, another artist featured in the exhibit, based his main collection in the exhibit on graffiti. From there, his idea snowballed, resulting in a sketchbook full of colorful sticky note collages.
"I was living in Idaho next to a train yard that's crazy graffitied every single day, and I just loved it because there were such bright colors and really cool shapes. So I just made up nonsense words and turned it into graffiti. My mind's always running with these crazy ideas, and I just try to put it down on paper if I can," Whiting said.
Another featured artist and WSU alumnus, BC Sterrett, discovered his love of cartoons in fifth grade. "I found a comic strip in my older brother's drawer, and I thought if he can do it, I can do it,"  he said. He has since gone on to obtain a Master of Fine Arts focusing on comic books from the Center for Cartoon Studies in Vermont.
"To apply for the school, you have to write a story that includes yourself, a robot and a snowman," Sterrett mentioned.
Every artist, no matter the original inspiration for his or her creations, has tapped into a greater purpose. Whether through trolls dripping in satire or children's comic books promoting acceptance, the artists have produced works that can act as catalysts for change.
Sterrett summed it up best when he said, "The reason I think I chose to be a cartoonist is because I felt like I had something to say, and it was an easier way to get my stories out there and opinions. It's easier than being on a soap box, or the radio or TV."
The Comics & Cartoons Art Exhibit is open until Jan. 29.