Lego League robots invade Weber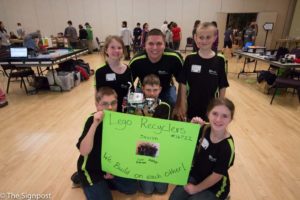 Over 157 kids ranging from fourth to eighth grade gathered in the Shepherd Union ballrooms on Jan. 9 to compete in an engineering competition for this year's First Lego League.
This year, the competition was focused on trash and recycling and how to be more mindful of waste. The overall purpose of the competition is to bring young minds into engineering and other STEM focused programs.
"We need innovative and responsible engineers, scientists, and technologists," Dana Dellinger, an organizer of the event, said.
This competition had twenty-three teams that were judged based on design, teamwork, their extra projects which were displayed out in the foyer and lastly on the competition itself. Using a LEGO robotics kit, these teams planned and programmed robots to do simple tasks such as moving objects.
"Helping our Utah youth see how important these areas are and encouraging them to pursue STEM education as careers is a win for our state," Dellinger said.
The main competition was a timed race to make the robot accomplish the most amount of tasks, without touching or moving the robot. The course was not a surprise, as each team was given the layout and the tasks beforehand.
The teams began building in August 2015 and spent an estimated five to six hours on one programmed task.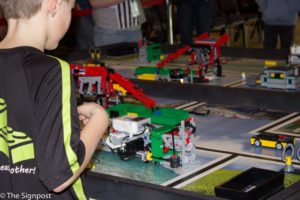 Abby Montgomery, a team member of the LEGO Recyclers said that she enjoyed working on this project and that she liked that there was a lot of teamwork that went into the competition.
Montgomery's desire to work with engineering started because of her brother, then her parents. Sometime later, they heard of the First Lego League and joined in with a group. Because of the things that Montgomery has learned here and from her family, she said she wants to have a career in a STEM field.
Volunteers ranging from those simply interested in robotics to people employed at Hill Air Force Base came to help with the competition.
Students who are interested in volunteering in the upcoming competition on Feb. 20 can visit weber.edu/utftc. Training to be a volunteer is done on-site and requires both registration and a background check.