Weber Speaks up for CAPES! program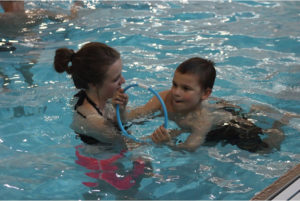 What do public speaking courses, class service projects and parks and recreation meetings have in common? More than you think.
Two Weber State students presented on the WSU CAPES! program at a Layton City Parks and Recreation Meeting on Monday, Dec. 7.
The two students were Madalin Rooker, sophomore Business Administration major, and Dallyn Zaugg, also a sophomore and Business Administration major. Aside from these characteristics, Rooker and Zaugg have even more in common.
Rooker is currently enrolled in Small Group and Interpersonal Communications, for which her service project was dedicated to WSU's Children's Adaptive Physical Education Society or CAPES! program. This program focuses on skill development for children ages 5-12, with developmental disabilities such as autism, down's syndrome, cerebral palsy and more.
"Right now, CAPES! has a lot of volunteers on campus," Rooker said. "But as far as getting out into the community, they needed help, so that's what we decided to focus on as a group."
While this project was for Rooker's communication class, Zaugg got involved as part of his public speaking class.
"This was the project for the small group and interpersonal class," Rooker said. "And we collaborated with the public speaking through Weber Speaks. So we set up the presentations and they gave us the speakers, and here we are."
Dr. Alexander Lancaster explained what Weber Speaks does. "Weber Speaks is a co-curricular program, proposed last year, designed to take students out of classroom and in surrounding communities," said Lancaster.
He also mentioned that several public speaking teachers offer their students a chance to be part of the Weber Speaks program, in which students could take their classroom speeches and present them to areas of interest in the surrounding communities.
For his public speaking course, Zaugg decided to present on the CAPES! program because he has a personal connection to children with disabilities. In his presentation, Zaugg showed pictures of three children in his family who suffer from varied developmental disabilities.
Zaugg gave a similar speech in his public speaking class, but he said that he had to transition it from students getting involved in CAPES! to why programs like CAPES! should be implemented by local government entities.
With the help of Weber Speaks, students like Rooker and Zaugg were able to complete their classroom projects in a community setting.
"We reached out to a bunch of different cities," Rooker said. "We got into Clearfield a couple weeks ago, we're at Layton tonight. And then hopefully, we'll get some response."
Zaugg also expressed his enthusiasm for the CAPES! mission to be spread to local communities.
"I think it's something that needs to be done and would be very beneficial for local governments to do" Zaugg said. "Children with developmental disabilities go through so much, and so do their parents. It would be very beneficial for them and their families as well as so many other families in the community."
But for Zaugg, this presentation could possibly be the end of his involvement of spreading the news of CAPES! to local governments.
"We'll see how busy I am in the upcoming semesters, but I would enjoy it," Zaugg said.