'Don't fear, I'm only queer'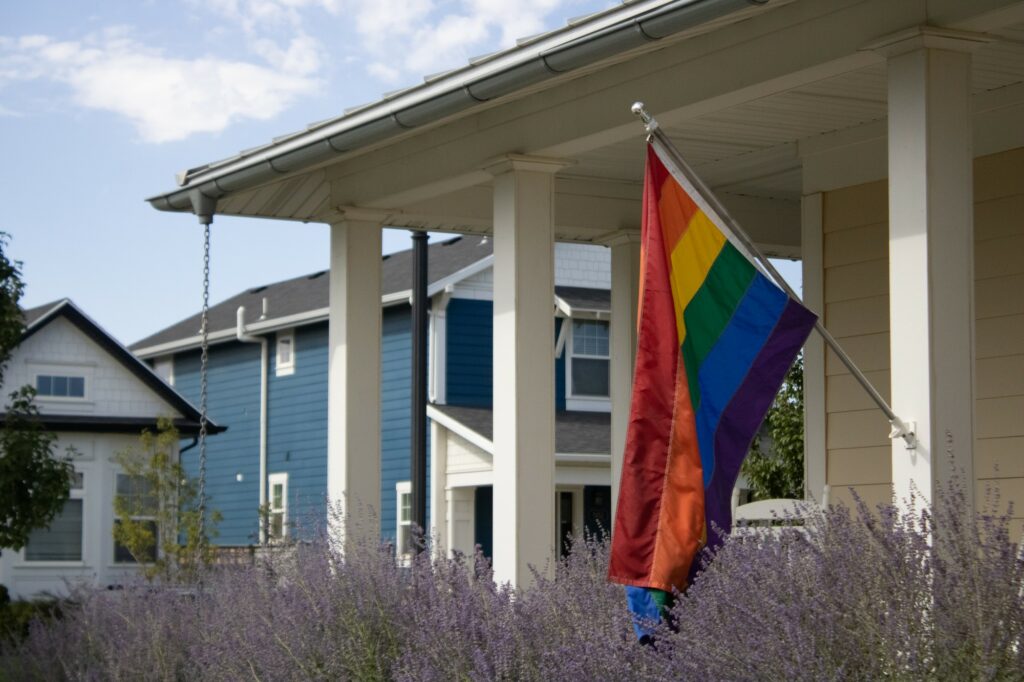 In 1998, Matthew Shepard, a 22-year-old college student, was found tied to a fence on the outskirts of Laramie, Wyoming. He had been burned, beaten and left for dead when a passing bicyclist found him. Shepard was barely breathing when first responders arrived at the scene. They quickly transported him to the local hospital where healthcare workers soon realized that his injuries were too severe for their small town hospital, so they transferred Shepard to a better-equipped hospital in Colorado.
The day after Shepard was discovered, police arrested Aaron McKinney and Russell Henderson, who were initially charged with attempted first-degree murder. McKinney's girlfriend, Chastity Pasley, and Henderson's girlfriend, Kristin Price, were also arrested and charged as accessories to murder after the fact.
Only five days after he was found, Shepard died as a result of his injuries in the Poudre Valley Hospital in Fort Collins, Colorado. Following his death, the attempted murder charges McKinney and Henderson were facing increased to murder charges.
As police worked the case, they discovered Shepard was an openly-gay freshman at the University of Wyoming. On the night of Oct. 7, 1998, Shepard was attending an LGBTQ event at a local bar when he met McKinney and Henderson. McKinney told police their plan was to rob Shepard, so they pretended to be gay in order to win over Shepard's trust.
As the night drew to a close, McKinney and Henderson suggested Shepard get a ride with them, and when he agreed and got into their truck, they turned around and started to beat him.
They stole his wallet and took him to the outskirts of town, where they tied him to a fence using clothesline wire, stole his boots and then continuously pistol-whipped him.
McKinney and Henderson reportedly told police they wanted to make sure Shepard's eyes were so swollen he couldn't see well enough to make out their license plate as they drove away.
Henderson ended up pleading guilty and was given two consecutive life sentences in prison. McKinney tried his luck with a trial.
At trial, McKinney's defense team argued he had gone into a violent rage because Shepard had touched his leg. What McKinney's team suggested to the jury was that because Shepard was gay, McKinney felt threatened by the same-sex sexual advancement.
The use of this strategy is not uncommon in cases similar to this one. It's known as the LGBT panic defense, or the gay panic defense, and is defined by the LGBTQ bar association as a strategy that asks the jury to "find a victim's sexual orientation or gender identity/expression is to blame for the defendant's violent actions, including murder."
There are three main ways this defense can be used. The first is defense of insanity or diminished capacity, followed by defense of provocation and lastly, self-defense.
This defense not only justifies someone's actions but excuses them as well. Many times, when this strategy works, defendants will often get reduced sentences and sometimes, no sentences at all.
Luckily, in the Matthew Shepard case, the judge dismissed the use of this defense strategy, telling the defense team they would have to come up with something else. McKinney ended up serving two consecutive life sentences for kidnapping and murder, but not all cases end this way.
In 2013, Islan Nettles, a 21-year-old transgender woman, was beaten and murdered on a street in Harlem, New York. The assailant, James Dixon, was sentenced to 12 years in prison for manslaughter; a charge lighter than murder or homicide.
Because Nettles was trans, the defense team used the LGBTQ panic defense to help explain why Dixon reacted in such a violent way. The only difference between this case and the Shepard case was that the judge let the defense use this strategy. As a result, Dixon was only given 12 years.
Today, only 10 states have banned the use of this defense strategy, meaning it's still completely legal in 40 states in the U.S. The first state to ban its use was California in 2014; the other states with bans are Illinois, Rhode Island, Nevada, Connecticut, Maine, Hawaii, New York, New Jersey and Washington.
According to hate crime statistics from the FBI, LGBTQ people are disproportionately targeted and research shows that one in five lesbian, gay and bisexual people will experience a hate crime in their life and every one in four trans people will.
The use of the gay panic defense only excuses the actions of those perpetrating these crimes. Dixon, and countless others who have committed similar crimes and got away with reduced sentencing, are only given a slap on the wrist.
The Shepard case, as brutal and terrible as it was, was the exception, not the rule. The use of the gay panic defense is still happening today, and it's not okay. This defense is dangerous and stems from a long, deep-seated prejudice against the LGBTQ community. It allows the criminals who commit these heinous acts to get reduced sentences with almost no jail time at all.
The fact that not all 50 states have banned the use of this unjust defense strategy is beyond me. This defense strategy is harmful not only to the victim but to the victim's family as well.
At the end of the day, a victims' sexual orientation or gender identity shouldn't be used against them in a trial. Murder is murder no matter who the person is or what their gender identity or sexual orientation is. Being LGBTQ doesn't diminish the fact that they were brutally murdered. The people who commit these crimes should be held accountable and shouldn't get their sentences reduced simply because their victim was LGBTQ.
We've come such a far way in terms of LGBTQ rights, but the fact that this defense strategy is still in use today, among other things, is an active reminder to us all that we still have a long way to go.