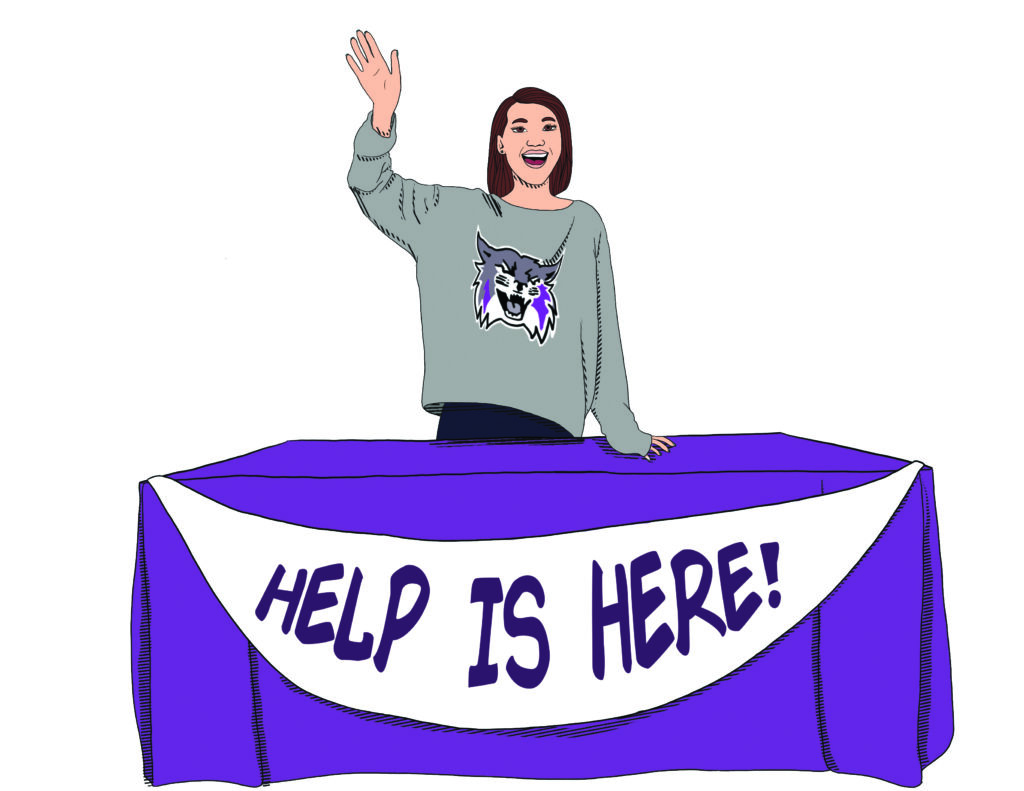 At Weber State University, there are a wealth of resources available to students that can help with health, money and academics. Additionally, nearly all of these resources are covered through student fees and are therefore free to students.
Student Affairs is a division at WSU encompassing a wide variety of offices, facilities and services. Dr. Jeff Hurst, Associate VP and Dean of Students, shared the hope of Student Affairs: to meet all the needs students have so that they can be more successful.
"For just about every student need or concern, there is an office or expert to help them in some way," Hurst said.
Hust said identity and finding a path they want to pursue is one of the most difficult facets of college that students struggle with during their pursuit of higher education.
"Career services is a great place to start. There, you can ask yourself, 'What do I want to be?'" Hurst said.
Other resources, like the Health Center, Student Wellness, the Stress Relief Center and Counseling and Psychological Services (CAPS) can help students in need. Whether visiting the massage chairs and chi machines at the Stress Relief Center or meeting with a counselor at CAPS, students can support their health and well-being at Weber.
As a newer and evolving resource on campus, The Money Management Center helps students, faculty and staff with money management and financial literacy. The center aims to support students, whether they are interested in common topics such as budgeting, credit, student loans, compounding interest, credit history or something else. Located in Shepherd Union 214A, across from the Fireplace Lounge, services are offered by drop-ins and as scheduled appointment times.
In high school, many students are required to take financial literacy. However, Jesse Checkman, Financial Literacy Coordinator at the Money Management Center, recognized that many people may not remember what they learned years ago when they finally need it.
"As you enter college, you're into the adulting world a little more. So that's why we're here," Checkman said. "We want to fill in the bits and pieces and help out where we can. Whatever we can assist with, we want to."
Many students cite financial difficulties as a reason for leaving school without graduating. With the resources available at the Money Management Center, students can receive advice from people with experience, who may help uncover alternatives to leaving school and reduce potential pitfalls.
"We break down the options," Checkman said. "Ultimately, we want to help students get out of here with as little debt as possible."
Another important area of resources are the academic resources, such as tutoring. Tutoring is available to students for free. Many tutoring centers offer both face-to-face and online sessions. This can be scheduled or can be done as drop-ins.
Math and English are the most common tutoring options for students, but a variety of subjects are offered by appointments, and some departments also offer their own tutoring, such as the Foreign Language department.
If students just need to work on homework, Open Computer Labs are available across campus. Students can access PC and Mac desktops, checkout Macbooks or Chromebooks or have access to a printer.
Several computer programs are available for students, at no extra cost, including the Adobe Creative Cloud, Google Suite for Education and Microsoft 365. These can be used on campus or at home.
"We try to make sure that students have access to a certain software load that can help them in the most courses," Carl Porter, the executive director of academic support centers and programs, said. "You don't need to be, say, a computer science major to use the labs; any student can use them."
For students who want to stay on campus for a job, there are many opportunities available. Through these jobs, often leadership training, scholarships, fun activities and service opportunities are offered. Porter also stressed the flexibility in hours as a way campus jobs allow students to build around their schedules.
"That's what we have tried to do in academic support centers — make sure not only are we helping students who are struggling or need some academic help, but also it provides jobs for students and gives them something else nice," Porter said. "Not just a job where you come, and maybe do your homework, but you learn something about what you're doing and how to work, how to have a job."
Another academic support system that works around student schedules as best as possible are the testing centers on campus, which offer flexible hours. The testing centers allow professors to set up times for an exam, allowing students to take exams when they feel most comfortable, including weekends.
When students need to take a break from the daily list of assignments and exams, there are many campus recreation opportunities including aquatics and safety, club sports, fitness programs, intramural sports and the outdoor program.
"It can seem like something that takes away from the time that you need to attend to academics, but in fact the more you have a healthy balanced kind of lifestyle, the more it can help," Hurst said. "The more students get involved with activities the better they perform academically."
Although all the options for students can seem overwhelming, students can utilize these options as much or as little as they want. The options are meant to help students succeed both in classes and after they leave academia for the day.